Smooth cornering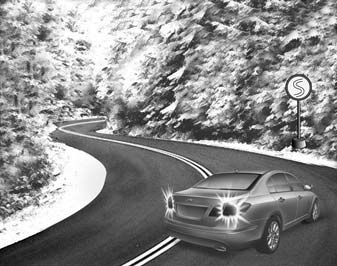 Avoid braking or gear changing in corners, especially when roads are wet. Ideally, corners should always be taken under gentle acceleration. If you follow these suggestions, tire wear will be held to a minimum.
See also:
Operating door locks from outside the vehicle
Х Turn the key toward the rear of the vehicle to unlock and toward the front of the vehicle to lock. Х If you lock the door with a key, all vehicle doors will lock automatically. Х From the driv ...
Tire rotation
To equalize tread wear, it is recommended that the tires be rotated every 7,500 miles (12,000 km) or sooner if irregular wear develops. During rotation, check the tires for correct balance. When r ...
Multi-function light switch
COMBINATION TURN SIGNAL, HEADLIGHT AND HIGH-BEAM SWITCH Turn Signal Operation Pulling down on the lever causes the turn signals on the left side of the car to blink. Pushing upwards on the lever c ...