Smooth cornering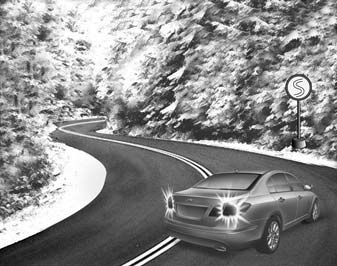 Avoid braking or gear changing in corners, especially when roads are wet. Ideally, corners should always be taken under gentle acceleration. If you follow these suggestions, tire wear will be held to a minimum.
See also:
Digital clock
There are three control buttons for the digital clock. Their functions are: HOUR - Push "H" to advance the hour indicated. MIN - Push "M" to advance the minute indicated. RES ...
Use of lights
Check your lights regularly for correct operation and always keep them clean. When driving during the day in conditions of poor visibility, it is helpful to drive with headlights on low beam. This ...
Tire terminology and definitions
Air Pressure: The amount of air inside the tire pressing outward on the tire. Air pressure is expressed in pounds per square inch (psi) or kilopascal (kPa). Accessory Weight: This means the combi ...