Hazardous driving conditions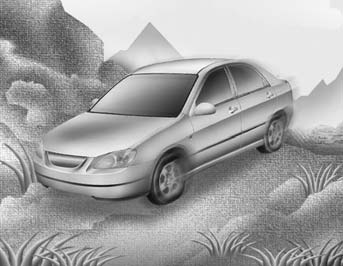 When hazardous driving conditions are encountered such as water, snow, ice, mud, sand, or similar hazards, follow these suggestions:
Х Drive cautiously and allow extra distance for braking.
Х Avoid sudden in braking or steering.
WARNING - ABS
Do not pump the brake pedal on a vehicle equipped with ABS.
Х If stalled in snow, mud, or sand, use second gear. Accelerate slowly to avoid spinning the drive wheels.
Х Use sand, rock salt, tire chains, or other non-slip material under the drive wheels to provide traction when stalled in ice, snow, or mud.
WARNING - Downshifting
Downshifting with an automatic transaxle, while driving on slippery surfaces can cause an accident. The sudden change in tire speed could cause the tires to skid. Be careful when downshifting on slippery surfaces.
See also:
Digital clock
There are three control buttons for the digital clock. Their functions are: HOUR - Push "H" to advance the hour indicated. MIN - Push "M" to advance the minute indicated. RES ...
Driving at night
Because night driving presents more hazards than driving in the daylight, here are some important tips to remember: Х Slow down and keep more distance between you and other vehicles, as it may ...
Parking brake
Applying the parking brake To engage the parking brake, first apply the foot brake and then without pressing the release button in, pull the parking brake lever up as far as possible. In additio ...