Illuminated ignition switch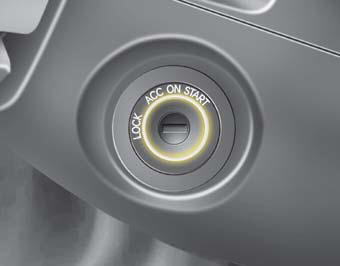 Whenever a front door is opened, the ignition switch will be illuminated for your convenience, provided the ignition switch is not in the ON position. The light will go off immediately when the ignition switch is turned on or go off after about 30 seconds when the door is closed.
See also:
High-Beam Switch
To turn on the headlight high beams, push the lever forward (away from you). The High Beam Indicator Light will come on at the same time. For low beams, pull the lever back toward you. ...
Adding Brake Fluid
WARNING: Handle brake fluid carefully. It can damage your vision if it gets into your eyes. Use only DOT 3 or DOT 4 specification fluid from a sealed container. Do not allow the fluid can or rese ...
Keys
For greater convenience, the same key operates all the locks in your Hyundai. However, because the doors can be locked without a key, carrying a spare key is recommended in case you accidentally ...