Satellite radio reception
You may experience problems in receiving XMЩ satellite radio signals in the following situations.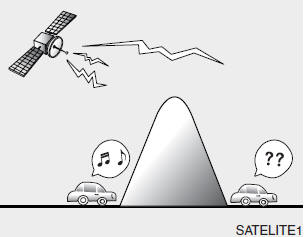 Х If you are driving in a tunnel or a covered parking area.
Х If you are driving beneath the top level of a multi-level freeway.
Х If you drive under a bridge.
Х If you are driving next to a tall vechicle( such as a truck or a bus) that block the signal.
Х If you are driving in a valley where the surrounding hills or peaks block the signal from the satellite.
Х If you are driving on a mountain road where the signal is blocked by mountains.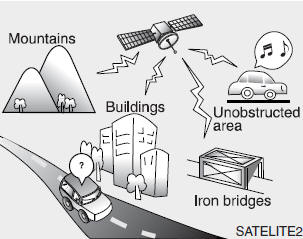 Х If you are driving in an area with tall trees that block the signal(10m or more), for example on a road through a dense forest.
Х The signal can become weak in some areas that are not covered by the repeater station network.
Please note that these may be other unforeseen circumstances when there are problems with the reception of XMЩ satellite radio signal.
See also:
DEFROSTING/DEFOGGING
Use the heating/ventilation system to defrost or defog the windshield: To remove interior fog on the windshield; o Set the air flow control to the defrost () position (The A/C will automatical ...
Locking and Unlocking Front Doors with a Key
o The door can be locked or unlocked with a key. o Lock the door by turning the key toward the front of the vehicle and unlock it by turning the key toward the rear. NOTE: o The driver's do ...
INFINITYЃ AUDIO SYSTEM
Audio enthusiasts with even more demanding tastes will be impressed by the AM/FM/XM/CD/MP3 audio system with touch-screen navigation that includes a 400-watt external amplifier, dedicated Dual Voi ...