Satellite radio reception
You may experience problems in receiving XMЩ satellite radio signals in the following situations.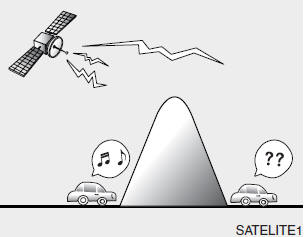 Х If you are driving in a tunnel or a covered parking area.
Х If you are driving beneath the top level of a multi-level freeway.
Х If you drive under a bridge.
Х If you are driving next to a tall vechicle( such as a truck or a bus) that block the signal.
Х If you are driving in a valley where the surrounding hills or peaks block the signal from the satellite.
Х If you are driving on a mountain road where the signal is blocked by mountains.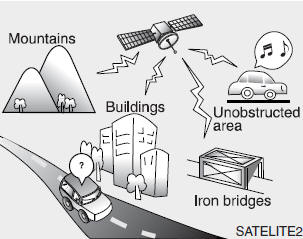 Х If you are driving in an area with tall trees that block the signal(10m or more), for example on a road through a dense forest.
Х The signal can become weak in some areas that are not covered by the repeater station network.
Please note that these may be other unforeseen circumstances when there are problems with the reception of XMЩ satellite radio signal.
See also:
Exhaust Pipe and Muffler
Visually inspect the exhaust pipes, muffler and hangers for cracks, deterioration, or damage. Start the engine and listen carefully for any exhaust gas leakage. Tighten connections or replace part ...
Locking doors
1. Close all doors. 2. Push the "LOCK" button on the transmitter. 3. At the same time all doors lock, the turn signal light will blink once to indicate that the system is locked. ...
Adding equipment to or modifying your air bag-equipped vehicle
If you modify your vehicle by changing your vehicle's frame, bumper system, front end or side sheet metal or ride height, this may affect the operation of your vehicle's air bag system. ...