Power outlet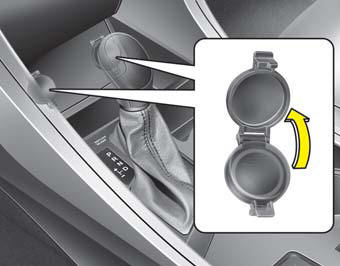 The power outlet is designed to provide power for mobile telephones or other devices designed to operate with vehicle electrical systems. The devices should draw less than 10 amps with the engine running.
CAUTION
Х Use the power outlet only when the engine is running and remove the accessory plug after use. Using the accessory plug for prolonged periods of time with the engine off could cause the battery to discharge.
Х Only use 12V electric accessories which are less than 10A in electric capacity.
Х Adjust the air-conditioner or heater to the lowest operating level when using the power outlet.
Х Close the cover when not in use.
Х Some electronic devices can cause electronic interference when plugged into a vehicleТs power outlet. These devices may cause excessive audio static and malfunctions in other electronic systems or devices used in your vehicle.
WARNING
Do not put a finger or a foreign element (pin, etc.) into a power outlet and do not touch with a wet hand. You may get an electric shock.
See also:
Anti-Lock Brake System
The Anti-Lock Brake System (ABS) is designed to prevent wheel lock-up during sudden braking or on hazardous road surfaces. The ABS control module monitors the wheel speed and controls the pressure ...
Checking the Transaxle Fluid (Automatic)
Transaxle fluid in the automatic transaxle should be checked at those intervals specified in the vehicle maintenance schedule in Section 5. NOTE: Automatic transaxle fluid is basically a red color ...
Fuel requirements
Your new vehicle is designed to use only unleaded fuel having a pump octane number ((R+M)/2) of 87 (Research Octane Number 91) or higher. Your new vehicle is designed to obtain maximum performance ...