Cup holder
WARNING - Hot liquids
• Do not place uncovered cups of hot liquid in the cup holder while the vehicle is in motion. If the hot liquid spills, you may burn yourself. Such a burn to the driver could lead to loss of control of the vehicle.
• To reduce the risk of personal injury in the event of sudden stop or collision, do not place uncovered or unsecured bottles, glasses, cans, etc., in the cup holder while the vehicle is in motion.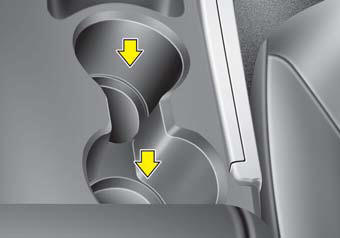 Cups or small beverage cans may be placed in the cup holders.
See also:
Do not use methanol
Fuels containing methanol (wood alcohol) should not be used in your vehicle. This type of fuel can reduce vehicle performance and damage components of the fuel system. ...
Opening the trunk with the alarm armed (if equipped)
When the alarm is armed, the alarm will not sound if the trunk lid is opened with the transmitter (or smart key). Once the trunk is opened and then closed, the trunk will be locked automatically a ...
Filter replacement
1. Open the glove box and remove the support strap (1). 2. With the glove box open, remove the stoppers by turning them counterclockwise on both sides. 3. Remove the climate control air filter ...