Cup holder
WARNING - Hot liquids
• Do not place uncovered cups of hot liquid in the cup holder while the vehicle is in motion. If the hot liquid spills, you may burn yourself. Such a burn to the driver could lead to loss of control of the vehicle.
• To reduce the risk of personal injury in the event of sudden stop or collision, do not place uncovered or unsecured bottles, glasses, cans, etc., in the cup holder while the vehicle is in motion.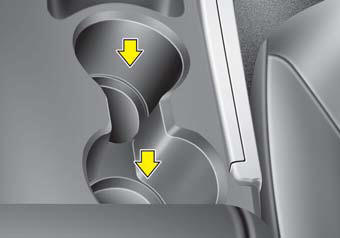 Cups or small beverage cans may be placed in the cup holders.
See also:
Specified Scheduled Procedures
These are the procedures such as inspections, adjustments and replacements that are listed in the maintenance charts starting on page 5-4. These procedures must be performed at the intervals shown ...
135,000 miles (216,000 km) or 108 months
❑ Inspect air cleaner filter ❑ Inspect vacuum hose ❑ Inspect air conditioning refrigerant ❑ Inspect brake hoses and lines ❑ Inspect drive shafts and boots d ...
Use of E85 fuel
E85 fuel is an alternative fuel composed of 85 percent ethanol and 15 percent gasoline, and is manufactured for use in Flexible Fuel Vehicles. E85 is not compatible with your vehicle. Use of E85 m ...