Glove box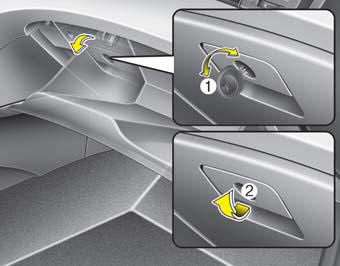 The glove box can be locked and unlocked with a master key (or the mechanical key of the smartkey) (1).
To open the glove box, pull the handle and the glove box will automatically open. Close the glove box after use.
WARNING
To reduce the risk of injury in an accident or sudden stop, always keep the glove box door closed while driving.
See also:
Changing a tire with TPMS
If you have a flat tire, the Low Tire Pressure telltale will turn on. Have the flat tire repaired by an authorized Hyundai dealer as soon as possible or replace the flat tire with the temporary sp ...
Keep Your Garage Dry
Don't park your car in a damp, poorly ventilated garage. This creates a favorable environment for corrosion. This is particularly true if you wash your car in the garage or drive it into the g ...
Checking tire inflation pressure
Check your tires once a month or more. Also, check the tire pressure of the spare tire. How to Check Use a good quality gage to check tire pressure. You can not tell if your tires are properly i ...