Turn signals and lane change signals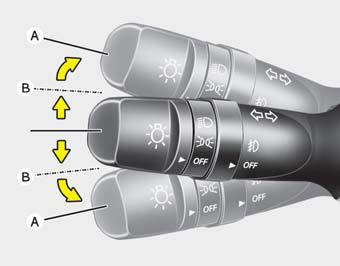 The ignition switch must be on for the turn signals to function. To turn on the turn signals, move the lever up or down (A). Green arrow indicators on the instrument panel indicate which turn signal is operating. They will self-cancel after a turn is completed. If the indicator continues to flash after a turn, manually return the lever to the OFF position.
To signal a lane change, move the turn signal lever slightly and hold it in position (B). The lever will return to the OFF position when released.
If an indicator stays on and does not flash or if it flashes abnormally, one of the turn signal bulbs may be burned out and will require replacement.
One-touch triple turn signal
To activate an one-touch triple turn signal move the turn signal lever up or down slightly and then release it. The lane change signals will blink 3 times.
NOTICE
If an indicator flash is abnormally quick or slow, a bulb may be burned out or have a poor electrical connection in the circuit.
See also:
Overview
A new world-beating engine, more equipment and a stylish new look - all at a lower price. The 2010 Hyundai Santa Fe looks too good to be true. But buyers looking for a big, practical family car ca ...
Checking the battery
WARNING: Batteries can be dangerous! When working with batteries, carefully observe the following precautions to avoid serious injuries. The fluid in the battery contains a strong solution of s ...
Lower Vehicle and Tighten Nuts
Lower the car to the ground by turning the wheel nut wrench counterclockwise. Then position the wrench as shown in the drawing and tighten the wheel nuts. Be sure the socket is seated completely ...