Turn signals and lane change signals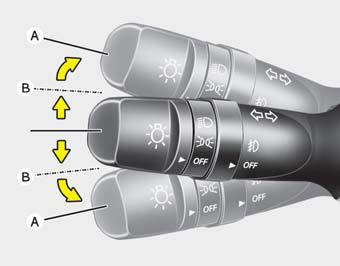 The ignition switch must be on for the turn signals to function. To turn on the turn signals, move the lever up or down (A). Green arrow indicators on the instrument panel indicate which turn signal is operating. They will self-cancel after a turn is completed. If the indicator continues to flash after a turn, manually return the lever to the OFF position.
To signal a lane change, move the turn signal lever slightly and hold it in position (B). The lever will return to the OFF position when released.
If an indicator stays on and does not flash or if it flashes abnormally, one of the turn signal bulbs may be burned out and will require replacement.
One-touch triple turn signal
To activate an one-touch triple turn signal move the turn signal lever up or down slightly and then release it. The lane change signals will blink 3 times.
NOTICE
If an indicator flash is abnormally quick or slow, a bulb may be burned out or have a poor electrical connection in the circuit.
See also:
Summer tires
Hyundai specifies summer tires on some models to provide superior performance on dry roads. Summer tire performance is substantrally reduced in snow and ice. Summer tires do not have the tire trac ...
Larger Children
Children who are too large for child restraint systems should always occupy the rear seat and use the available lap/ shoulder belts. The lap portion should be fastened snug on the hips and as low ...
2012 Hyundai Accent review
A few years ago the subcompact class was supposed to take over the auto industry. There was a slew of small cars with low sticker prices and decent efficiency, power and features. While all of them ...