Turn signals and lane change signals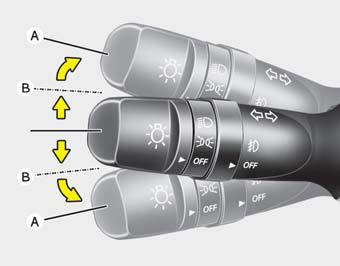 The ignition switch must be on for the turn signals to function. To turn on the turn signals, move the lever up or down (A). Green arrow indicators on the instrument panel indicate which turn signal is operating. They will self-cancel after a turn is completed. If the indicator continues to flash after a turn, manually return the lever to the OFF position.
To signal a lane change, move the turn signal lever slightly and hold it in position (B). The lever will return to the OFF position when released.
If an indicator stays on and does not flash or if it flashes abnormally, one of the turn signal bulbs may be burned out and will require replacement.
One-touch triple turn signal
To activate an one-touch triple turn signal move the turn signal lever up or down slightly and then release it. The lane change signals will blink 3 times.
NOTICE
If an indicator flash is abnormally quick or slow, a bulb may be burned out or have a poor electrical connection in the circuit.
See also:
SENSE AND STYLE
Family Friendly (Not Really, Fair, Great, Excellent): Great Fun-Factor (None, Some, Good Times, Groove-On): None ...
Hood Release
1. Pull the release knob to unlatch the hood. 2. Pull the secondary latch lever up and lift the hood. 3. Pull the support rod from the hood. 4. Hold the hood open with the support rod. Bef ...
Current Hyundai Elantra
The Hyundai Elantra is a compact sedan, although there is a related four-door hatchback known as the Elantra Touring. The sedan has been redesigned for 2011 with improvements in fuel economy, desi ...