Turn signals and lane change signals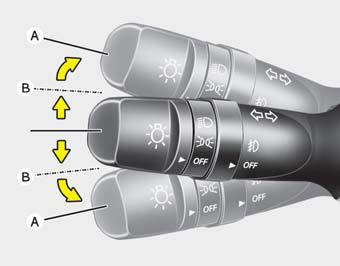 The ignition switch must be on for the turn signals to function. To turn on the turn signals, move the lever up or down (A). Green arrow indicators on the instrument panel indicate which turn signal is operating. They will self-cancel after a turn is completed. If the indicator continues to flash after a turn, manually return the lever to the OFF position.
To signal a lane change, move the turn signal lever slightly and hold it in position (B). The lever will return to the OFF position when released.
If an indicator stays on and does not flash or if it flashes abnormally, one of the turn signal bulbs may be burned out and will require replacement.
One-touch triple turn signal
To activate an one-touch triple turn signal move the turn signal lever up or down slightly and then release it. The lane change signals will blink 3 times.
NOTICE
If an indicator flash is abnormally quick or slow, a bulb may be burned out or have a poor electrical connection in the circuit.
See also:
Tire Balancing
A tire that is out of balance may affect handling and tire wear. The tires on your Hyundai were balanced before the car was delivered but may need balancing again during the years you own the car. ...
Climate control air filter (in front of blower unit)
(If installed) The climate control air filter is located in front of the blower unit behind the glove box. It operates to decrease the amount of pollutants entering the car. CAUTION: o Replace ...
Before starting the engine
Before you start the engine, you should always: 1. Look around the vehicle to be sure there are no flat tires, puddles of oil, water or other indications of possible trouble. 2. After entering the ...