Checking drive belts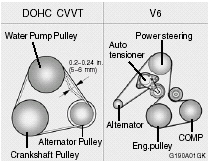 Drive belts should be checked periodically for proper tension and adjusted if necessary. At the same time, belts should be examined for cracks, wear, fraying or other evidence of deterioration and replaced if necessary.
Belt routing should also be checked to be sure there is no interference between the belts and other parts of the engine. After a belt is replaced, the new belt should be adjusted again after two or three weeks to eliminate slack resulting from initial stretching after use.
See also:
Features
Base 2.0T coupes come well-equipped with automatic headlights, 18-inch alloy wheels, manual air conditioning, cruise control, a CD stereo with USB and auxiliary inputs, Bluetooth connectivity, and ...
Don't Let Ice and Snow Accumulate Underneath
Under some conditions, snow and ice can build up under the fenders and interfere with the steering. When driving in severe winter conditions where this may happen, you should periodically check un ...
Changing the climate control air filter
(For Evaporator and Blower Unit) (If Installed) The climate control air filter is located in front of the evaporator unit behind the glove box. It helps to decrease the amount of pollutants enter ...