Checking drive belts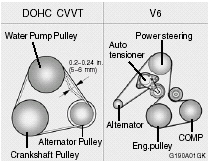 Drive belts should be checked periodically for proper tension and adjusted if necessary. At the same time, belts should be examined for cracks, wear, fraying or other evidence of deterioration and replaced if necessary.
Belt routing should also be checked to be sure there is no interference between the belts and other parts of the engine. After a belt is replaced, the new belt should be adjusted again after two or three weeks to eliminate slack resulting from initial stretching after use.
See also:
Hyundai Accent Review
Style and glamour may have eluded the Hyundai Accent, but since its 1995 introduction, this economy car has been one of the better-built, better-performing choices at the bottom end of the new car ...
Performance
Subcompact buyers have been treated poorly in the performance department. Inexpensive engines and transmissions have resulted in subpar mileage numbers despite the fact that the subcompacts weigh ...
60,000 miles (96,000 km) or 48 months
❑ Inspect vacuum hose ❑ Inspect air conditioning refrigerant ❑ Inspect brake hoses and lines ❑ Inspect drive shafts and boots ❑ Inspect electronic throttle contr ...