Checking drive belts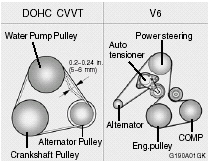 Drive belts should be checked periodically for proper tension and adjusted if necessary. At the same time, belts should be examined for cracks, wear, fraying or other evidence of deterioration and replaced if necessary.
Belt routing should also be checked to be sure there is no interference between the belts and other parts of the engine. After a belt is replaced, the new belt should be adjusted again after two or three weeks to eliminate slack resulting from initial stretching after use.
See also:
If the Engine Stalls at a Crossroad or Crossing
If the engine stalls at a crossroad or crossing, set the shift lever in the N(Neutral) position and then push the vehicle to a safe place. ...
Side Impact Airbag
Your Hyundai is equipped with a side impact airbag in each front seat. The purpose of the airbag is to provide the vehicle's driver and/or the front passenger with additional protection than ...
A Few Tips
o Whenever you have your Hyundai serviced, keep copies of the service records in your glove box. This will help ensure that you can document that the required procedures have been performed to kee ...