Checking drive belts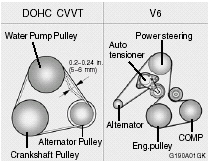 Drive belts should be checked periodically for proper tension and adjusted if necessary. At the same time, belts should be examined for cracks, wear, fraying or other evidence of deterioration and replaced if necessary.
Belt routing should also be checked to be sure there is no interference between the belts and other parts of the engine. After a belt is replaced, the new belt should be adjusted again after two or three weeks to eliminate slack resulting from initial stretching after use.
See also:
ADVANCED STANDARD SAFETY TECHNOLOGIES: PART OF HYUNDAI'S ASSURANCE COMMITMENT
Hyundai Elantra was one of the first compact sedans with ESC when it launched in July of 2007. The 2011 Elantra now takes compact car safety to the next level with the introduction of Vehicle Stabil ...
Tire care
For proper maintenance, safety, and maximum fuel economy, you must always maintain recommended tire inflation pressures and stay within the load limits and weight distribution recommended for your ...
Fuel filter
A clogged filter can limit the speed at which the vehicle may be driven, damage the emission system and cause multiple issues such as hard starting. If an excessive amount of foreign matter accumu ...