Sun Shade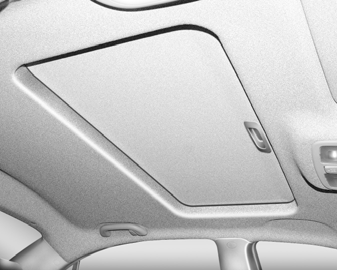 Your HYUNDAI is equipped with a sliding sunshade which you can manually adjust to let in light with the sunroof closed, or to block sunlight.
WARNING:
Never adjust the sunshade while driving. This could result in loss of control and an accident that may cause death, serious injury, or property damage.
Opening the Sunroof System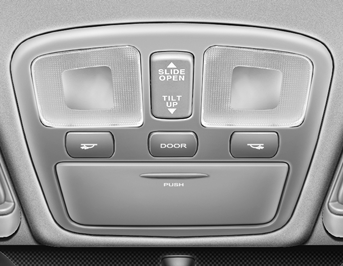 If your vehicle is equipped with this feature, you can slide or tilt your sunroof with the sunroof control buttons located on the overhead console.
The sunroof can only be opened, closed, or tilted when the ignition switch is in the "ON" position.
Auto slide open
To use the auto slide feature, press the SLIDE OPEN button on the overhead console for more than 1 second. The sunroof will slide all the way open. To stop the sunroof sliding at any point, press any sunroof control button.
Manual slide open
Press the SLIDE OPEN button on the overhead console for less than 0.5 second.
Manual slide close
To close the sunroof, press the TILT UP button on the overhead console and hold it until the sunroof is closed.
WARNING:
Be careful that someone's head, hands and body are not trapped by a closing sunroof.
See also:
52,500 miles (84,000 km) or 42 months
❑ Inspect air cleaner filter ❑ Inspect vacuum hose ❑ Replace engine oil and filter (52,500 miles (84,000 km) or 84 months) ...
Adding Brake Fluid
WARNING: Handle brake fluid carefully. It can damage your vision if it gets into your eyes. Use only DOT 3 or DOT 4 specification fluid from a sealed container. Do not allow the fluid can or rese ...
Wheel alignment and tire balance
The wheels on your vehicle were aligned and balanced carefully at the factory to give you the longest tire life and best overall performance. In most cases, you will not need to have your wheels al ...