Sun Shade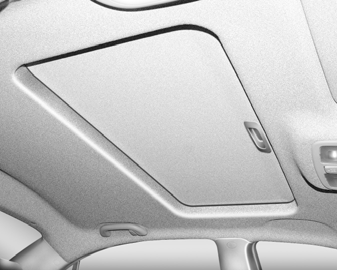 Your HYUNDAI is equipped with a sliding sunshade which you can manually adjust to let in light with the sunroof closed, or to block sunlight.
WARNING:
Never adjust the sunshade while driving. This could result in loss of control and an accident that may cause death, serious injury, or property damage.
Opening the Sunroof System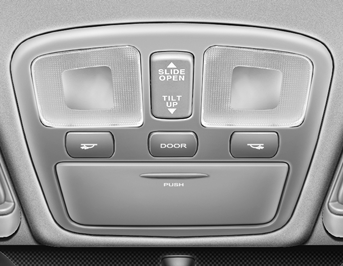 If your vehicle is equipped with this feature, you can slide or tilt your sunroof with the sunroof control buttons located on the overhead console.
The sunroof can only be opened, closed, or tilted when the ignition switch is in the "ON" position.
Auto slide open
To use the auto slide feature, press the SLIDE OPEN button on the overhead console for more than 1 second. The sunroof will slide all the way open. To stop the sunroof sliding at any point, press any sunroof control button.
Manual slide open
Press the SLIDE OPEN button on the overhead console for less than 0.5 second.
Manual slide close
To close the sunroof, press the TILT UP button on the overhead console and hold it until the sunroof is closed.
WARNING:
Be careful that someone's head, hands and body are not trapped by a closing sunroof.
See also:
SRS Care
The SRS is virtually maintenance-free and so there are no parts you can safely service by yourself. If the SRS air bag warning light "" does not illuminate, when you turn the ignition on ...
Spark plugs
Make sure to install new spark plugs of the correct heat range. ...
Engine
...