Sun Shade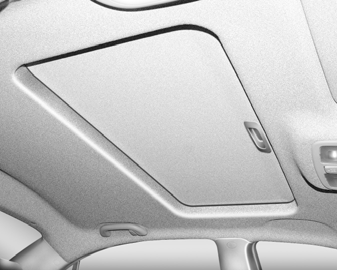 Your HYUNDAI is equipped with a sliding sunshade which you can manually adjust to let in light with the sunroof closed, or to block sunlight.
WARNING:
Never adjust the sunshade while driving. This could result in loss of control and an accident that may cause death, serious injury, or property damage.
Opening the Sunroof System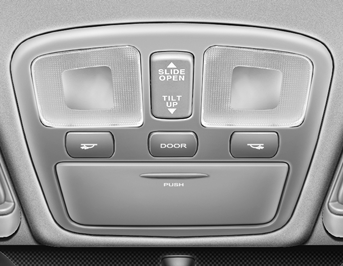 If your vehicle is equipped with this feature, you can slide or tilt your sunroof with the sunroof control buttons located on the overhead console.
The sunroof can only be opened, closed, or tilted when the ignition switch is in the "ON" position.
Auto slide open
To use the auto slide feature, press the SLIDE OPEN button on the overhead console for more than 1 second. The sunroof will slide all the way open. To stop the sunroof sliding at any point, press any sunroof control button.
Manual slide open
Press the SLIDE OPEN button on the overhead console for less than 0.5 second.
Manual slide close
To close the sunroof, press the TILT UP button on the overhead console and hold it until the sunroof is closed.
WARNING:
Be careful that someone's head, hands and body are not trapped by a closing sunroof.
See also:
If you have a flat tire
If a tire goes flat while you are driving: 1. Take your foot off the accelerator pedal and let the car slow down while driving straight ahead. Do not apply the brakes immediately or attempt to pu ...
2010 Hyundai Genesis Coupe review by Jim Mateja
The 2009 Hyundai Genesis sedan surprised many when it captured the North American Car of the Year award from the nation's automotive wordsmiths. Hyundai had won a loyal, if limited, following in t ...
Risk of rollover
WARNING: o The 2WD Tucson is not designed for offroad use. The 4WD Tucson is designed primarily for use on paved roads. However, occasional use in off-highway conditions such as established unpav ...