Emergency towing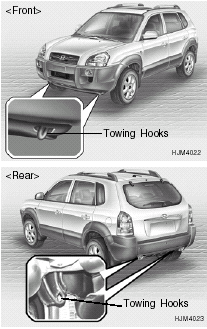 For emergency towing when no commercial tow vehicle is available, attach a tow cable, chain or strap to one of the towing hooks under the front/rear of your vehicle. Be very careful when attempting this procedure when the vehicle is on any unpaved surface to avoid damage to your vehicle.
Nor should towing be attempted if the wheels, drive train, axles, steering or brakes are damaged.
Before towing, be sure the transaxle is in neutral and the key is in "ACC" (with the engine off) or in the "ON" position (with the engine running). A driver must be in the towed vehicle to steer it and operate the brakes.
NOTE:
To avoid serious damage to your 4WD vehicle, limit the towing to 10 mph and not for more than 1 mile at ANY TIME.
See also:
To decrease the cruising speed
Follow either of these procedures: o Push the -/SET switch and hold it. Your vehicle will gradually slow down. Release the switch at the speed you want to maintain. o Push the -/SET switch and r ...
Engine Compartment
The following should be checked regularly: o Engine oil level and condition o Transaxle fluid level and condition o Brake fluid level o Clutch fluid level o Engine coolant level o Windshield was ...
Emission control system
Your Hyundai is equipped with an emission control system to meet all requirements of the U.S. Environmental Protection Agency or California Air Resources Board. There are three emission control sy ...