Emergency towing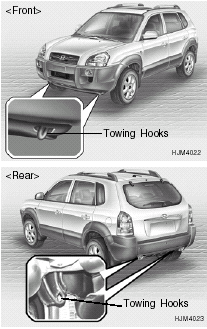 For emergency towing when no commercial tow vehicle is available, attach a tow cable, chain or strap to one of the towing hooks under the front/rear of your vehicle. Be very careful when attempting this procedure when the vehicle is on any unpaved surface to avoid damage to your vehicle.
Nor should towing be attempted if the wheels, drive train, axles, steering or brakes are damaged.
Before towing, be sure the transaxle is in neutral and the key is in "ACC" (with the engine off) or in the "ON" position (with the engine running). A driver must be in the towed vehicle to steer it and operate the brakes.
NOTE:
To avoid serious damage to your 4WD vehicle, limit the towing to 10 mph and not for more than 1 mile at ANY TIME.
See also:
Cruise Control System
The cruise control system allows you to program the vehicle to maintain a constant speed without resting your foot on the accelerator pedal. This system is designed to function above approximately ...
Spectacle case
(If Installed) The spectacle case is located on the front overhead console. Push the end of the cover to open the spectacle case. WARNING: Do not keep objects except spectacle inside the spec ...
Headlight aiming adjustment
Before performing aiming adjustment, make sure of the following. 1. Keep all tires inflated to the correct pressure. 2. Place the vehicle on level ground and press the front bumper & rear bump ...