Emergency towing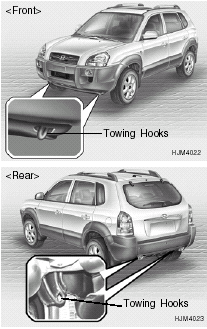 For emergency towing when no commercial tow vehicle is available, attach a tow cable, chain or strap to one of the towing hooks under the front/rear of your vehicle. Be very careful when attempting this procedure when the vehicle is on any unpaved surface to avoid damage to your vehicle.
Nor should towing be attempted if the wheels, drive train, axles, steering or brakes are damaged.
Before towing, be sure the transaxle is in neutral and the key is in "ACC" (with the engine off) or in the "ON" position (with the engine running). A driver must be in the towed vehicle to steer it and operate the brakes.
NOTE:
To avoid serious damage to your 4WD vehicle, limit the towing to 10 mph and not for more than 1 mile at ANY TIME.
See also:
Manual heating and air conditioning
The heating and cooling system can be controlled manually by pressing buttons or turning knob(s) other than the AUTO button. In this case, the system works sequentially according to the order of b ...
Lighting control
The light switch has a Headlight and a Parking light position. To operate the lights, turn the knob at the end of the control lever to one of the following positions: (1) OFF position (2) Parki ...
Accent in the market
If all you need is the most basic transportation, a sub-$10,000 Accent might be the right pick for you. But once you reach the full price tag by loading it up with features most buyers expect in a ...