Emergency towing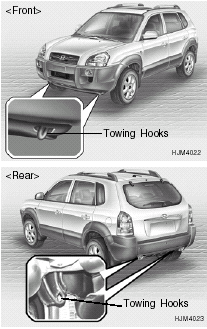 For emergency towing when no commercial tow vehicle is available, attach a tow cable, chain or strap to one of the towing hooks under the front/rear of your vehicle. Be very careful when attempting this procedure when the vehicle is on any unpaved surface to avoid damage to your vehicle.
Nor should towing be attempted if the wheels, drive train, axles, steering or brakes are damaged.
Before towing, be sure the transaxle is in neutral and the key is in "ACC" (with the engine off) or in the "ON" position (with the engine running). A driver must be in the towed vehicle to steer it and operate the brakes.
NOTE:
To avoid serious damage to your 4WD vehicle, limit the towing to 10 mph and not for more than 1 mile at ANY TIME.
See also:
Infant or Small Child
All 50 states have child restraint laws. You should be aware of the specific requirements in your state. Child and/or infant safety seats must be properly placed and installed in the rear seat. In ...
Rear Window Wiper and Washer (If Installed)
1. : The washer fluid will be sprayed onto the rear window and the wiper operates while the rear window wiper barrel is placed in this position. 2.ON : The rear window wiper starts to operate ...
Emergency fuel filler lid release
An emergency fuel filler lid release is located in the luggage compartment, on the left side. If the fuel filler lid does not open using the remote fuel filler lid release, you can open it manua ...