Climate control air filter (in front of blower unit)
(If installed)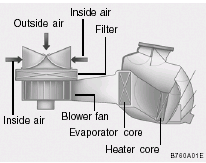 The climate control air filter is located in front of the blower unit behind the glove box.
It operates to decrease the amount of pollutants entering the car.
CAUTION:
o Replace the filter every 10,000 miles (15,000 km) or once a year. If the car being driven in severe conditions such as dusty, rough roads, more frequent climate control air filter inspections and changes are required.
o When the air flow rate is suddenly decreased, the system should be checked by an authorized dealer.
See also:
Cleaning the Seat Belts
To clean the seat belts, use a cloth or sponge with mild soap or detergent and warm water. Do not use strong detergents, dye, bleach or abrasive materials on the seat belts as this may weaken the ...
2010 Hyundai Genesis Coupe review by Bill Griffith
The plan was to make a legal U-turn in front of my house. The street is so wide that I'm almost able to make the swing without backing up; unfortunately there's not quite enough room. At this pi ...
Use of E85 fuel
E85 fuel is an alternative fuel composed of 85 percent ethanol and 15 percent gasoline, and is manufactured for use in Flexible Fuel Vehicles. E85 is not compatible with your vehicle. Use of E85 m ...