High-mounted rear stop light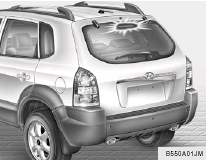 In addition to the lower-mounted rear stoplights on either side of the car, the high mounted rear stoplight in the center of the rear window also lights when the brakes are applied.
See also:
Interior & Cargo
Like the performance and the exterior design, the inside, too, reminds me of a more substantial vehicle. All the fabrics, buttons and plastic panels are of good quality. The textured dashboard and ...
2011 Hyundai Sonata review
I've gotten tired of writing about the next good Hyundai. And according to the late night profanity-laced messages left on my voice mail, so have Detroit readers. So let's just stop acting surpr ...
Tire Balancing
A tire that is out of balance may affect handling and tire wear. The tires on your Hyundai were balanced before the car was delivered but may need balancing again during the years you own the car. ...