High-mounted rear stop light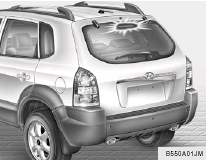 In addition to the lower-mounted rear stoplights on either side of the car, the high mounted rear stoplight in the center of the rear window also lights when the brakes are applied.
See also:
Checking and Changing the Engine Coolant
WARNING: Do not remove the radiator cap when the engine is hot. When the engine is hot, the engine coolant is under pressure and may erupt through the opening if the cap is removed. You could be ...
PARKING BRAKE
Always engage the parking brake before leaving the car. This also turns on the parking brake indicator light when the key is in the "ON" or "START" position. Before driving a ...
Driving Impressions
The Santa Fe is one of the friendliest and easiest of the smaller SUVs to drive, and it handles adeptly and performs admirably. Its bulging fenders, which are uncommon on SUVs, actually make a dif ...