Center console conpartment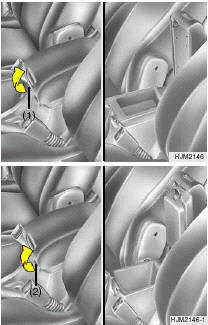 Center Console Box
The center console box is used for storing cassette tapes or small articles.
To use the center console box, pull up the handle (1) or (2) lift the lid as shown.
WARNING:
To avoid the possibility of injury in case of an accident or a sudden stop, the center console box lid should be kept closed when the car is in motion.

Center Console Armrest (If Installed)
The center console box can be used as armrest.
To use the console armrest, pull out the console box lid by pulling up the handle as shown.
NOTE:
When not in use, always be sure it is locked in position properly.
WARNING:
Do not place cups or cans in the drink holder when the console box lid is used as an armrest. It may result in spilling the beverage. A spilled beverage that is very hot can injure you or your passengers. Spilled liquids can damage interior trim and electric components.
See also:
2010 TUCSON 61 POUNDS LIGHTER THAN THE OUTGOING MODEL DESPITE BEING THREE INCHES LONGER
World-class weight efficiency was one of the program targets for the Hyundai Tucson engineering team. In fact, the 2010 Tucson leads all of its competitors in weight efficiency. Hyundai engineers ...
Overview
Elantra exemplifies Hyundai's emotional "Fluidic Sculpture" design principles. "Fluidic Sculpture" considers the interplay of wind with rigid surfaces to create the illusion of ...
15,000 miles (24,000 km) or 12 months
❑ Inspect air cleaner filter ❑ Inspect vacuum hose ❑ Inspect air conditioning refrigerant ❑ Inspect brake hoses and lines ❑ Inspect drive shafts and boots d ...