Power outlets
(If installed)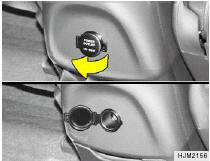 These are located in the quarter trim and on the rear main console.
These supply 12V electric power to operate electric accessories or equipment only when the key is in the "ON" or "ACC" position.
CAUTION:
o Use when the engine is running and remove a plug from the power outlet after using the electric appliance. Using when the engine stops or remaining the electric appliance with plugged in for many hours may cause the battery to be discharged.
o Do not use the power outlet to connect electric accessories or equipment other than those designed to operate on 12 volts.
o Some electronic devices can cause electronic interference when plugged into the power outlet. These devices may cause excessive audio noise and malfunctions in other electronic systems or devices used in your vehicle.
See also:
POWER WINDOWS (If Installed)
The power windows operate when the ignition key is in the "ON" position. The main switches are located on the driver's armrest and control the front (4/3 Door) and rear windows (4 ...
Sonata Hybrid in the Market
Hyundai's first hybrid is impressive in almost every way. I certainly wish it drove better in its thriftiest mode, which owners of competing hybrids generally use. However, in nearly every other a ...
Purge Control Solenoid Valve (PCSV)
The purge control solenoid valve is controlled by the Engine Control Module (ECM); when the engine coolant temperature is low during idling, the PCSV closes so that evaporated fuel is not taken in ...