Power outlets
(If installed)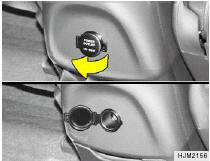 These are located in the quarter trim and on the rear main console.
These supply 12V electric power to operate electric accessories or equipment only when the key is in the "ON" or "ACC" position.
CAUTION:
o Use when the engine is running and remove a plug from the power outlet after using the electric appliance. Using when the engine stops or remaining the electric appliance with plugged in for many hours may cause the battery to be discharged.
o Do not use the power outlet to connect electric accessories or equipment other than those designed to operate on 12 volts.
o Some electronic devices can cause electronic interference when plugged into the power outlet. These devices may cause excessive audio noise and malfunctions in other electronic systems or devices used in your vehicle.
See also:
ASHTRAY
To use the ashtray, open the cover. To remove the ashtray to empty or clean it, pull it all the way out. ...
License plate light bulb replacement
1. Loosen the retaining screws with a philips head screwdriver. 2. Remove the soket by turning it connterclockwise. 3. Remove the bulb by pulling it straight out. 4. Install a new bulb. 5. Reins ...
Rear Window Wiper and Washer (If Installed)
1. : The washer fluid will be sprayed onto the rear window and the wiper operates while the rear window wiper barrel is placed in this position. 2.ON : The rear window wiper starts to operate ...