Power outlets
(If installed)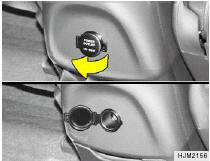 These are located in the quarter trim and on the rear main console.
These supply 12V electric power to operate electric accessories or equipment only when the key is in the "ON" or "ACC" position.
CAUTION:
o Use when the engine is running and remove a plug from the power outlet after using the electric appliance. Using when the engine stops or remaining the electric appliance with plugged in for many hours may cause the battery to be discharged.
o Do not use the power outlet to connect electric accessories or equipment other than those designed to operate on 12 volts.
o Some electronic devices can cause electronic interference when plugged into the power outlet. These devices may cause excessive audio noise and malfunctions in other electronic systems or devices used in your vehicle.
See also:
Vehicle Interior
The following should be checked each time when the vehicle is driven: o Light operation o Windshield wiper operation o Horn operation o Defroster, heater system operation (and air conditioning, if ...
Gasolines for cleaner air
To help contribute to cleaner air, HYUNDAI recommends that you use gasolines treated with detergent additives, which help prevent deposit formation in the engine. These gasolines will help the eng ...
When to Wax Again
You should polish and wax the car again when water no longer beads on a clean surface but spreads out over a larger area. ...