Power outlets
(If installed)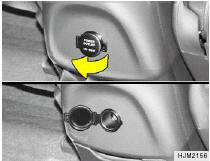 These are located in the quarter trim and on the rear main console.
These supply 12V electric power to operate electric accessories or equipment only when the key is in the "ON" or "ACC" position.
CAUTION:
o Use when the engine is running and remove a plug from the power outlet after using the electric appliance. Using when the engine stops or remaining the electric appliance with plugged in for many hours may cause the battery to be discharged.
o Do not use the power outlet to connect electric accessories or equipment other than those designed to operate on 12 volts.
o Some electronic devices can cause electronic interference when plugged into the power outlet. These devices may cause excessive audio noise and malfunctions in other electronic systems or devices used in your vehicle.
See also:
SAFETY
Hyundai doesn't believe consumers should have to pay a premium for safety, so a long list of safety features is included as standard equipment on all 2012 Accent models. A total of six airbags pro ...
2011 Hyundai Sonata review by G. Chambers Williams III
Among them is the newest generation of Hyundai's midsize sedan, the Sonata, now available in dealerships as an early 2011 model. The South Korean automaker introduced the new model to automotive j ...
Don't let your parking brake freeze
Under some conditions your parking brake can freeze in the engaged position. This is most likely to happen when there is an accumulation of snow or ice around or near the rear brakes or if the bra ...