Insrtument cluster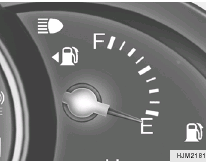 FUEL GAUGE
The needle on the gauge indicates the approximate fuel level in the fuel tank. The fuel capacity is given in Section 9.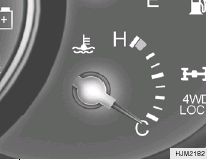 ENGINE COOLANT TEMPERATURE GAUGE
WARNING:
Never remove the radiator cap when the engine is hot. The engine coolant is under pressure and could erupt and cause severe burns. Wait until the engine is cool before adding coolant to the reservoir.
The needle on the engine coolant temperature gauge should stay in the normal range. If it moves across the dial to "H" (HOT), pull over and stop as soon as possible and turn off the engine. Then open the hood and, after the engine has cooled, check the coolant level and the water pump drive belt. If you suspect cooling system trouble, have your cooling system checked by a Hyundai dealer as soon as possible.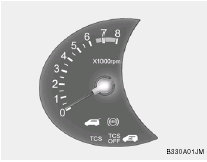 TACHOMETER
The tachometer registers the speed of your engine in revolutions per minute (rpm).
CAUTION:
The engine should not be raced to such a speed that the needle enters the red zone on the tachometer face. This can cause severe engine damage and may void your warranty.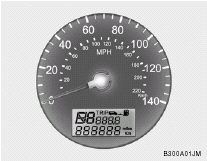 SPEEDOMETER
Your Hyundai's speedometer is calibrated in miles per hour (on the outer scale) and kilometers per hour (on the inner scale).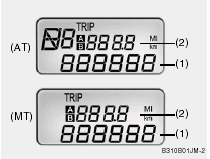 ODOMETER/TRIP ODOMETER
Odometer (1)
The odometer records the total driving distance in kilometers or miles, and is useful for keeping a record for maintenance intervals.
NOTE:
Any alteration of the odometer may void your warranty coverage.
Trip odometer (2)
o This mode indicates the drive distance travelled since the last drive time reset.
o You can choose the TRIP A or TRIP B by pressing the trip odometer switch for less than 1 second.
See also:
Ride & Handling
The Santa Fe's very stiff suspension was probably the most surprising aspect of the SUV. It didn't help that most of my driving was done in the Land of Potholes Ч a.k.a. Chicago in the spring Ч wh ...
How Car Audio Works
AM and FM radio signals are broadcast from transmitter towers located around your city. They are intercepted by the radio antenna on your car. This signal is then received by the radio and sent ...
Driving at night
Because night driving presents more hazards than driving in the daylight, here are some important tips to remember: Х Slow down and keep more distance between you and other vehicles, as it may ...