Measurement
MEASUREMENT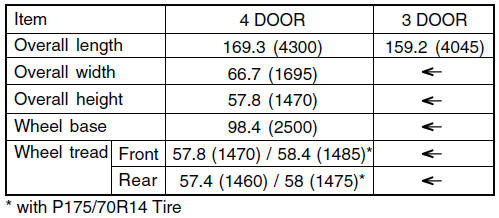 POWER STEERING

FUEL SYSTEM

TIRE

NOTE:
It is permissible to add 3psi (21kPa) to the standard tire pressure specification if colder temperatures are expected soon. Tires typically loose 1psi (7kPa) for every 12°F (-11°C) temperature drop. If extreme temperature variations are expected, re-check your tire pressure as necessary to keep them properly inflated.
BRAKE

See also:
Tire Information
The tires supplied on your new Hyndai are chosen to provide the best performance for normal driving. If you ever have questions about your tire warranty and where to obtain service, see the tire m ...
Drive shafts and boots
Check the drive shafts, boots and clamps for cracks, deterioration, or damage. Replace any damaged parts and, if necessary, repack the grease. ...
Purge Control Solenoid Valve (PCSV)
The purge control solenoid valve is controlled by the Engine Control Module (ECM); when the engine coolant temperature is low during idling, the PCSV closes so that evaporated fuel is not taken in ...