Measurement
MEASUREMENT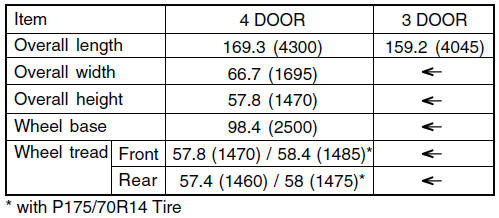 POWER STEERING

FUEL SYSTEM

TIRE

NOTE:
It is permissible to add 3psi (21kPa) to the standard tire pressure specification if colder temperatures are expected soon. Tires typically loose 1psi (7kPa) for every 12°F (-11°C) temperature drop. If extreme temperature variations are expected, re-check your tire pressure as necessary to keep them properly inflated.
BRAKE

See also:
Locking and Unlocking Front Doors with a Key
o The door can be locked or unlocked with a key. o Lock the door by turning the key toward the front of the vehicle and unlock it by turning the key toward the rear. NOTE: o The driver's do ...
Cleaning the Windows
You may use any household window cleaner on the windows. However, when cleaning the inside of the rear window be careful not to damage the rear window defroster wiring. ...
Trunk Lid (4 Door)
o The trunk lid is opened by first turning the key clockwise to release the lock, then raising the door manually. o To close, lower the trunk lid, then press down on it until it locks. To be sure ...