CIGARETTE LIGHTER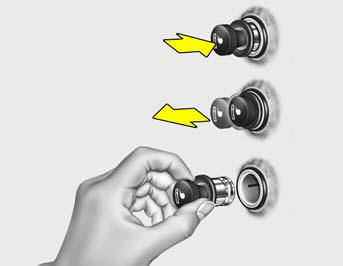 For the cigarette lighter to work, the key must be in the "ACC" position or the "ON" position.
To use the cigarette lighter, push it all the way into its socket. When the element has heated, the lighter will pop out to the "ready" position.
Do not hold the cigarette lighter pressed in. This can damage the heating element and create a fire hazard.
If it is necessary to replace the cigarette lighter, use only a genuine Hyundai replacement or its approved equivalent.
See also:
Driveshafts and Boots
Check the drive shafts, boots and clamps for cracks, deterioration, or damage. Replace any damaged parts and, if necessary, repack the grease. ...
Headlight, position light, turn signal light, side marker light and front fog light bulb replacement
(1) Headlight (High) (2) Headlight (Low) (3) Front turn signal light / Position light (4) Front fog light (if equipped) Headlight bulb WARNING - Halogen bulbs • Halogen bulbs contain pressuri ...
Spare tire
TEMPORARY SPARE TIRE The following instructions for the temporary spare tire should be observed: 1. Check inflation pressure as soon as practical after installing the spare tire, and adjust to th ...