CIGARETTE LIGHTER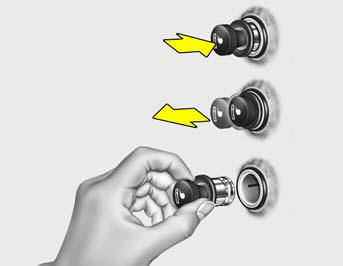 For the cigarette lighter to work, the key must be in the "ACC" position or the "ON" position.
To use the cigarette lighter, push it all the way into its socket. When the element has heated, the lighter will pop out to the "ready" position.
Do not hold the cigarette lighter pressed in. This can damage the heating element and create a fire hazard.
If it is necessary to replace the cigarette lighter, use only a genuine Hyundai replacement or its approved equivalent.
See also:
Changes for 2010
The biggest change for the 2010 Accent is its mileage. All trim levels see at least a 1 mpg bump, and the all-new base trim level, called Blue, gets a large jump versus the 2009 base model. The Bl ...
Rear combination light bulb replacement
(1) Back-up light (2) Tail light (3) Rear turn signal light (4) Stop and tail light (5) Side marker Rear turn signal, stop and tail light, side marker 1. Open the trunk lid. 2. Remove the ...
Record Your Key Number
A code number is recorded on the number tag that came with the keys to your Hyundai. This key number tag should not be left with the keys but kept in a safe place, not in the vehicle. The key nu ...