CIGARETTE LIGHTER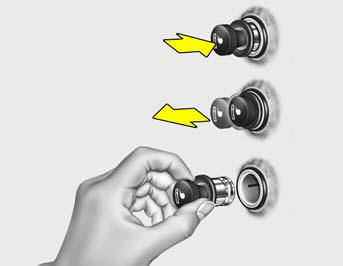 For the cigarette lighter to work, the key must be in the "ACC" position or the "ON" position.
To use the cigarette lighter, push it all the way into its socket. When the element has heated, the lighter will pop out to the "ready" position.
Do not hold the cigarette lighter pressed in. This can damage the heating element and create a fire hazard.
If it is necessary to replace the cigarette lighter, use only a genuine Hyundai replacement or its approved equivalent.
See also:
WINDSHIELD WIPER BLADES
The wiper blades should be carefully inspected from time to time and cleaned to remove accumulations of road film or other debris. To clean the wiper blades and arms, use a clean sponge or cloth w ...
Turn Signal Operation
Pulling down on the lever causes the turn signals on the left side of the car to blink. Pushing upward on the lever causes the turn signals on the right side of the car to blink. As the turn is co ...
Hyundai Accent Review
Style and glamour may have eluded the Hyundai Accent, but since its 1995 introduction, this economy car has been one of the better-built, better-performing choices at the bottom end of the new car ...