CIGARETTE LIGHTER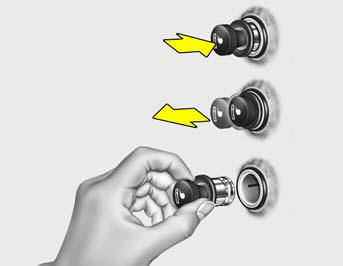 For the cigarette lighter to work, the key must be in the "ACC" position or the "ON" position.
To use the cigarette lighter, push it all the way into its socket. When the element has heated, the lighter will pop out to the "ready" position.
Do not hold the cigarette lighter pressed in. This can damage the heating element and create a fire hazard.
If it is necessary to replace the cigarette lighter, use only a genuine Hyundai replacement or its approved equivalent.
See also:
Cruise Indicator (If Installed)
The indicator light illuminates when the cruise control system is enabled. The cruise indicator light in the instrument cluster is illuminated when the cruise control ON/OFF button on the steeri ...
Programming HomeLink®
NOTICE • When programming a garage door opener, it is advised to park the vehicle outside of the garage.,. • It is recommended that a new battery be placed in the hand-held transmitter of the dev ...
De-Humidified Heating
For dehumidified heating: o Turn on the fan control switch. o Push the air conditioning switch. The air conditioning indicator light should come on at the same time. o Set the air intake contro ...