Adding Oil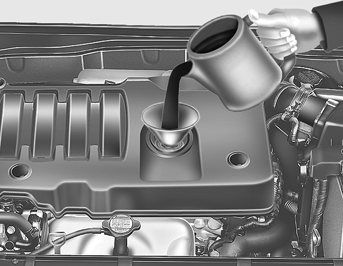 If the oil level is close to or below the "L" mark, add oil until it reaches the "F" mark. To add oil:
1. Remove the oil filler cap by turning it counterclockwise.
2. Add oil, then check the level again. Do not overfill.
3. Replace the cap by turning it clockwise. The distance between the "F" and "L" marks is equal to about 1 quart of oil.
CAUTION:
Slowly pour the recommended oil by using a funnel. Do not overfill so as not to damage engine.
WARNING:
Be very careful not to touch the radiator hose when adding the engine oil as it may be hot enough to burn you.
NOTE:
o It is recommended that the engine oil and filter should be changed by an authorized Hyundai dealer.
o Always dispose of used engine oil in an environmentally acceptable manner. It is suggested that it be placed in a sealed container and taken to a service station for reclaimation. Do not pour the oil on the ground or put it into the household trash.
CALIFORNIA PROPOSITION 65 WARNING:
Engine oil contains chemicals known to the State of California to cause cancer, birth defects and reproductive harm. Used engine oil may cause irritation or cancer of the skin if left in contact with the skin for prolonged periods of time. Always protect your skin by washing your hands thoroughly with soap and warm water as soon as possible after handling used oil.
See also:
Vehicle load limit
Tire and loading information label The label located on the driver's door sill gives the original tire size, cold tire pressures recommended for your vehicle, the number of people that ca ...
Features
There are no separate trim levels for the Sonata Hybrid, which comes with a slew of standard features and just one option package. Standard are cloth seats, 16-inch alloy wheels, low-rolling-resis ...
Checking the Transaxle Oil (Manual)
Transaxle lubricant in the manual transaxle should be checked at those intervals specified in the vehicle maintenance schedule in Section 5. WARNING: It is always better to check the transaxle oil ...