Changing the climate control air filter
(For Evaporator and Blower Unit) (If Installed)
The climate control air filter is located in front of the evaporator unit behind the glove box.
It helps to decrease the amount of pollutants entering the car.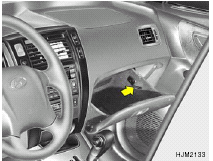 1. Open the glove box and remove the support strap through the hole.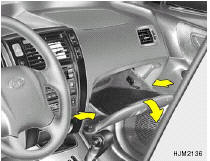 2. Lower the glove box down completely by pushing the both sides of the glove box inward.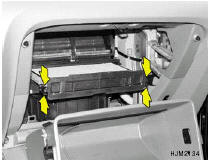 3. Remove the climate control air filter cover by pressing both side's clips.
4. Remove the climate control air filter by lifting it.
5. Installation is the reverse order of disassembly.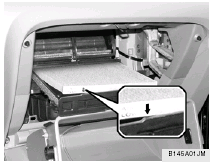 CAUTION:
Be sure to install the air conditioner filter in the direction of the arrow sign. Otherwise, noise or filter damage may result.
See also:
When to Wax Again
You should polish and wax the car again when water no longer beads on a clean surface but spreads out over a larger area. ...
Hood Release
1. Pull the release knob to unlatch the hood. 2. Pull the secondary latch lever up and lift the hood. 3. Pull the support rod from the hood. 4. Hold the hood open with the support rod. Bef ...
Do not use methanol
Fuels containing methanol (wood alcohol) should not be used in your vehicle. This type of fuel can reduce vehicle performance and damage components of the fuel system. ...