Changing the climate control air filter
(For Evaporator and Blower Unit) (If Installed)
The climate control air filter is located in front of the evaporator unit behind the glove box.
It helps to decrease the amount of pollutants entering the car.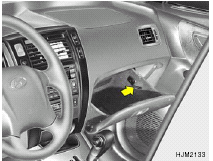 1. Open the glove box and remove the support strap through the hole.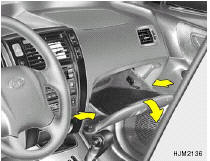 2. Lower the glove box down completely by pushing the both sides of the glove box inward.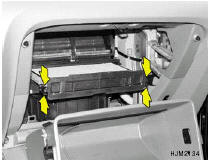 3. Remove the climate control air filter cover by pressing both side's clips.
4. Remove the climate control air filter by lifting it.
5. Installation is the reverse order of disassembly.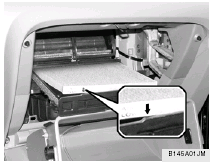 CAUTION:
Be sure to install the air conditioner filter in the direction of the arrow sign. Otherwise, noise or filter damage may result.
See also:
DIRECT INJECTION LAMBDA 3.8-LITER ENGINE
In keeping with its 5.0-liter V8 sibling, the Hyundai Genesis 3.8-liter Lambda engine will receive direct injection (GDI) technology, boosting its output 15 percent from 290 to 333 horsepower, an ...
EXTERIOR
The Sonata really is gorgeous. Its long, swoopy lines reminded me of a willowy runway model slithering down city streets. Because it's a sedan it was easy for everyone in my family to get in and o ...
Starting
Starting WARNING: Never run the engine in a closed or poorly ventilated area any longer than is needed to move your car in or out of the area. The carbon monoxide gas emitted is odorless and c ...