After Changing Wheels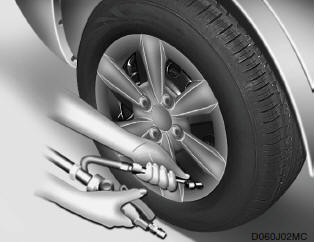 If you have a tire gauge, remove the valve cap and check the air pressure. If the pressure is lower than recommended, drive slowly to the nearest service station and inflate to the correct pressure. If it is too high, adjust it until it is correct. Always reinstall the valve cap after checking or adjusting tire pressure. If the cap is not replaced, air may leak from the tire. If you lose a valve cap, buy another and install it as soon as possible.
After you have changed wheels, always secure the flat tire in its place in the trunk and return the jack and tools to their proper storage locations.
See also:
STEERING WHEEL TILT LEVER
To Adjust the Steering Wheel: 1. Push the lever downward to unlock. 2. Raise or lower the steering wheel to the desired position. 3. After adjustment, securely tighten the lever by pulling it upw ...
Checking electric cooling fans
WARNING: The cooling fan is controlled by engine coolant temperature and may sometimes operate even when the engine is not running. Use extreme caution when working near the blades of the cooling ...
Current Hyundai Elantra
The Hyundai Elantra is a compact sedan, although there is a related four-door hatchback known as the Elantra Touring. The sedan has been redesigned for 2011 with improvements in fuel economy, desi ...