After Changing Wheels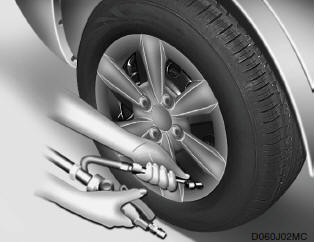 If you have a tire gauge, remove the valve cap and check the air pressure. If the pressure is lower than recommended, drive slowly to the nearest service station and inflate to the correct pressure. If it is too high, adjust it until it is correct. Always reinstall the valve cap after checking or adjusting tire pressure. If the cap is not replaced, air may leak from the tire. If you lose a valve cap, buy another and install it as soon as possible.
After you have changed wheels, always secure the flat tire in its place in the trunk and return the jack and tools to their proper storage locations.
See also:
Before starting the engine
Before you start the engine, you should always: 1. Look around the vehicle to be sure there are no flat tires, puddles of oil, water or other indications of possible trouble. 2. After entering the ...
Malfunction Indicator Light
This light illuminates when there is a malfunction of an exhaust gas related component and the system is not functioning properly. This light will also illuminate when the ignition key is turned ...
If the Engine Will Not Start
WARNING: If the engine will not start, do not push or pull the car to start it. This could result in a collision or cause other damage. In addition, push or pull starting may cause the catalytic ...