After Changing Wheels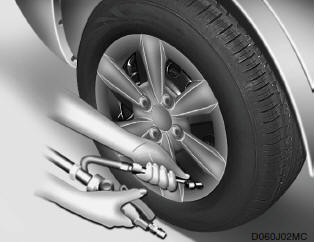 If you have a tire gauge, remove the valve cap and check the air pressure. If the pressure is lower than recommended, drive slowly to the nearest service station and inflate to the correct pressure. If it is too high, adjust it until it is correct. Always reinstall the valve cap after checking or adjusting tire pressure. If the cap is not replaced, air may leak from the tire. If you lose a valve cap, buy another and install it as soon as possible.
After you have changed wheels, always secure the flat tire in its place in the trunk and return the jack and tools to their proper storage locations.
See also:
Care of cassette tapes
Proper care of your cassette tapes will extend the tape life and increase your listening enjoyment. Always protect your tapes and cassette cases from direct sunlight, severely cold and dusty con ...
KEYLESS ENTRY SYSTEM (If Installed)
This device complies with Part 15 of the FCC rules. Operation is subject to the following two conditions: 1. This device may not cause harmful interference, and 2. This device must accept any inter ...
Wheel Cap
1. Wrap a piece of cloth around the tip of the flat-head screwdriver to avoid scratching. 2. Insert the flat-head screwdriver into the notch of the wheel cap and pry gently to remove the wheel ...