After Changing Wheels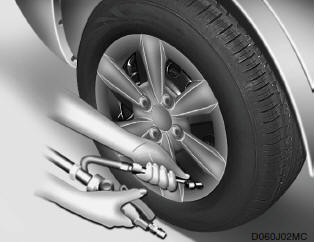 If you have a tire gauge, remove the valve cap and check the air pressure. If the pressure is lower than recommended, drive slowly to the nearest service station and inflate to the correct pressure. If it is too high, adjust it until it is correct. Always reinstall the valve cap after checking or adjusting tire pressure. If the cap is not replaced, air may leak from the tire. If you lose a valve cap, buy another and install it as soon as possible.
After you have changed wheels, always secure the flat tire in its place in the trunk and return the jack and tools to their proper storage locations.
See also:
Stereo sound system
How Car Audio Works AM and FM radio signals are broadcast from transmitter towers located around your city. They are intercepted by the radio antenna on your car. This signal is then received by ...
Tire Pressure Monitoring System (TPMS)
Low Tire Pressure Telltale TPMS Malfunction Indicator Each tire, including the spare (if provided), should be checked monthly when cold and inflated to the inflation pressure recommended by the ...
To install the wiper blade
1. Put a new wiper blade onto the wiper arm and lower the wiper blade at the level of the wiper arm as shown in the drawing. 2. Pull up the wiper blade until you hear an audible "click&quo ...