Handling the Spare Tire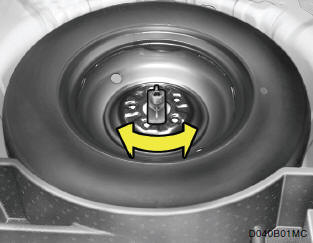 Remove the installation bolt to remove the spare tire. To replace the spare tire in its storage compartment, tighten the bolt firmly with your fingers until there is no more play in the spare tire.
See also:
40 MPG - AN 18 PERCENT IMPROVEMENT IN FUEL ECONOMY
The 2012 Hyundai Accent's highway fuel economy of 40 mpg is an 18 percent improvement over its predecessor's 34 mpg highway manual transmission fuel economy rating. Hyundai Accent's fuel economy ...
Binding Arbitration of Warranty Claims
Any claim or dispute you may have related to your vehicle's warranty or the duties contemplated under the warranty, including claims related to the refund or partial refund of your vehicle' ...
Review: 2012 Hyundai Accent GLS Sedan
The Hyundai Accent has never been a Уgotta have itФ sort of car. Instead, itТs been a УwhatТs the cheapest thing you got?Ф sort of car. The 2011 started at just $9,985 (plus shipping and handling) ...