Changing Wheels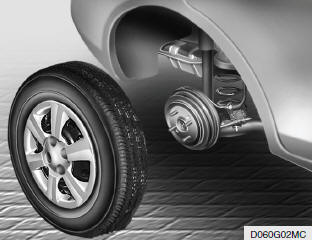 Loosen the wheel nuts and remove them with your fingers. Slide the wheel off the studs and lay it flat so it cannot roll away. To put the wheel on the hub, pick up the spare tire, line up the holes with the studs and slide the wheel onto them. If this is difficult, tip the wheel slightly and get the top hole in the wheel lined up with the top stud. Then jiggle the wheel back and forth until the wheel can be slid over the other studs.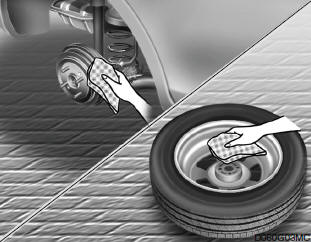 WARNING:
Wheels and wheel covers may have sharp edges. Handle them carefully to avoid possible severe injury. Before putting the wheel into place, be sure that there is nothing on the hub or wheel (such as mud, tar, gravel, etc.) that prevents the wheel from fitting solidly against the hub. If there is, remove it.
WARNING:
If there is not good contact on the mounting surface between the wheel and hub, the wheel nuts could loosen and cause the loss of a wheel. Loss of a wheel may result in loss of control of the vehicle. This may cause serious injury or death.
See also:
Driving at night
Because night driving presents more hazards than driving in the daylight, here are some important tips to remember: • Slow down and keep more distance between you and other vehicles, as it may ...
Warnings and indicators
All warning lights are checked by turning the ignition switch ON (do not start the engine). Any light that does not illuminate should be checked by an authorized HYUNDAI dealer. After starting th ...
CAPABLE FOR OUT-OF-TOWN TRAVEL
To make the Hyundai Tucson even more versatile, Hyundai engineers added an advanced electronic AWD system designed by JTEKT. The AWD system will automatically activate under any driving condition ...