Loosen Wheel Nuts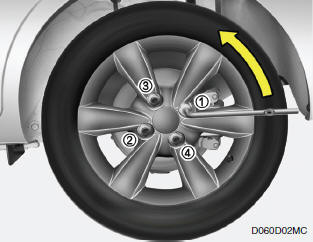 The wheel nuts should be loosened slightly before raising the car. To loosen the nuts, turn the wrench handle counterclockwise. When doing this, be sure that the socket is seated completely over the nut so it cannot slip off. For maximum leverage, position the wrench so the handle is to the right. Then, while holding the wrench near the end of the handle, pull up on it with steady pressure. Do not remove the nuts at this time. Just loosen them about one-half turn.
See also:
Checking the parking brake
Type A Check whether the stroke is within specification when the parking brake pedal is depressed with 44 lb (20 kg, 196 N) of force. Also, the parking brake alone should securely hold the vehi ...
Emergency Towing
For emergency towing when no commercial tow vehicle is available, attach a tow cable, chain or strap to one of the towing hooks under the front/rear of your car. Do not attempt to tow your veh ...
Checking tire inflation pressure
Check your tires once a month or more. Also, check the tire pressure of the spare tire. How to check Use a good quality gage to check tire pressure.You can not tell if your tires are properly inf ...