Loosen Wheel Nuts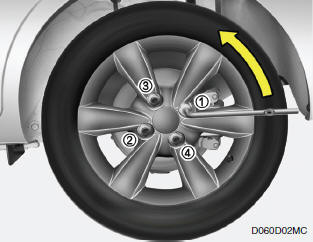 The wheel nuts should be loosened slightly before raising the car. To loosen the nuts, turn the wrench handle counterclockwise. When doing this, be sure that the socket is seated completely over the nut so it cannot slip off. For maximum leverage, position the wrench so the handle is to the right. Then, while holding the wrench near the end of the handle, pull up on it with steady pressure. Do not remove the nuts at this time. Just loosen them about one-half turn.
See also:
High-Corrosion Areas
If you live in an area where your car is regularly exposed to corrosive materials, corrosion protection is particularly important. Some of the common causes of accelerated corrosion are road salts ...
Map lamp
Push the lens to turn the map lamp on or off. This light produces a spot beam for convenient use as a map lamp at night or as a personal lamp for the driver and the front passenger. • DOOR : In ...
HYUNDAI PACKAGING EFFICIENCY
The sleek design, combined with Hyundai's expertise in interior packaging, has produced an interior that delivers class-leading comfort, functionality and practicality. A sleek roofline typically ...