Loosen Wheel Nuts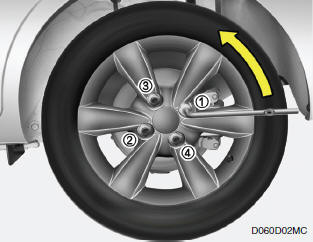 The wheel nuts should be loosened slightly before raising the car. To loosen the nuts, turn the wrench handle counterclockwise. When doing this, be sure that the socket is seated completely over the nut so it cannot slip off. For maximum leverage, position the wrench so the handle is to the right. Then, while holding the wrench near the end of the handle, pull up on it with steady pressure. Do not remove the nuts at this time. Just loosen them about one-half turn.
See also:
Cargo
The coupe has a traditional trunk that measures 10 cubic feet, which is enough room to accommodate three golf bags. You can create more cargo room by folding down the rear seatback, which is relea ...
License plate light bulb replacement
1. Loosen the retaining screws with a philips head screwdriver. 2. Remove the soket by turning it connterclockwise. 3. Remove the bulb by pulling it straight out. 4. Install a new bulb. 5. Reins ...
Theft-alarm stage
The alarm will be activated if any of the following occurs while the system is armed. • A door is opened without using the transmitter (or smart key or mechanical key). • The trunk is opened wit ...