Loosen Wheel Nuts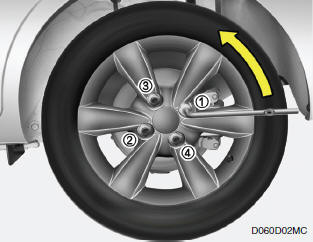 The wheel nuts should be loosened slightly before raising the car. To loosen the nuts, turn the wrench handle counterclockwise. When doing this, be sure that the socket is seated completely over the nut so it cannot slip off. For maximum leverage, position the wrench so the handle is to the right. Then, while holding the wrench near the end of the handle, pull up on it with steady pressure. Do not remove the nuts at this time. Just loosen them about one-half turn.
See also:
SENSE AND STYLE
Family Friendly (Not Really, Fair, Great, Excellent): Fair Fun-Factor (None, Some, Good Times, Groove-On): Some ...
2011 ELANTRA PRICING
The all-new Hyundai Elantra offers modern design, loads of comfort and convenience features, and is an outstanding weapon against gas prices all with a low starting price of $14,830. ...
Checking brake pedal clearance
You need a helper to check the brake pedal clearance. With the engine running, have your helper press down on the brake pedal several times and then hold it down with a force of about 110 lbs (5 ...