Loosen Wheel Nuts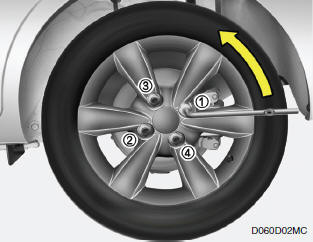 The wheel nuts should be loosened slightly before raising the car. To loosen the nuts, turn the wrench handle counterclockwise. When doing this, be sure that the socket is seated completely over the nut so it cannot slip off. For maximum leverage, position the wrench so the handle is to the right. Then, while holding the wrench near the end of the handle, pull up on it with steady pressure. Do not remove the nuts at this time. Just loosen them about one-half turn.
See also:
Maintenance Precautions
Improper or incomplete service may result in problems. This section gives instructions only for the maintenance items that are easy to perform. Several procedures should be done by an authorized Hy ...
Opening the hood
1. Pull the release lever to unlatch the hood. The hood should pop open slightly. 2. Go to the front of the vehicle, raise the hood slightly, pull the secondary latch (1) inside of the hood cen ...
ADVANCED STANDARD SAFETY TECHNOLOGIES: PART OF HYUNDAI'S ASSURANCE COMMITMENT
The 2005 Tucson was the first Hyundai model to feature standard ESC (Electronic Stability Control) upon its launch in fall 2004. It was also the first vehicle under $20,000 with standard ESC and s ...