Lower Vehicle and Tighten Nuts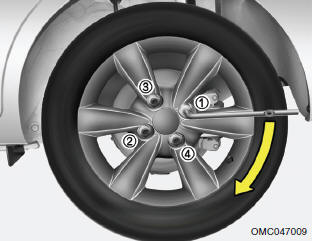 Lower the car to the ground by turning the wheel nut wrench counterclockwise. Then position the wrench as shown in the drawing and tighten the wheel nuts. Be sure the socket is seated completely over the nut. Do not stand on the wrench or use an extension pipe over the wrench handle.
Go around the wheel tightening every other nut until they are all tight. Then double-check each nut for tightness. After changing wheels, have a technician tighten the wheel nuts to their proper torque as soon as possible.
Wheel nut tightening torque:
Steel wheel & aluminium alloy wheel: 65-80 lb.ft (900-1,100 kg.cm)
See also:
Exterior
The original Genesis was an understated sedan. The attractive grille — sans the Hyundai "H" logo — was probably the most unique feature. For 2012 you'd have to say the redesigned headlig ...
How to use this manual
We want to help you get the greatest possible driving pleasure from your vehicle. Your Owner's Manual can assist you in many ways. We strongly recommend that you read the entire manual. In order t ...
HAZARD WARNING SYSTEM
The hazard warning system should be used whenever you find it necessary to stop the car in a hazardous location. When you must make such an emergency stop, always pull off the road as far as pos ...