Lower Vehicle and Tighten Nuts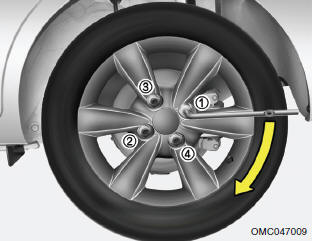 Lower the car to the ground by turning the wheel nut wrench counterclockwise. Then position the wrench as shown in the drawing and tighten the wheel nuts. Be sure the socket is seated completely over the nut. Do not stand on the wrench or use an extension pipe over the wrench handle.
Go around the wheel tightening every other nut until they are all tight. Then double-check each nut for tightness. After changing wheels, have a technician tighten the wheel nuts to their proper torque as soon as possible.
Wheel nut tightening torque:
Steel wheel & aluminium alloy wheel: 65-80 lb.ft (900-1,100 kg.cm)
See also:
To Keep Locks from Freezing
To keep the locks from freezing, squirt an approved de-icer fluid or glycerine into the key opening. If a lock is covered with ice, squirt it with an approved de-icing fluid to remove the ice. If ...
Checking the free-play
STEERING WHEEL To check the steering wheel free-play, stop the car with the wheels pointed straight ahead and gently move the steering wheel back and forth. Use very light finger pressure and be ...
BIGGER CHANGES INSIDE AND ON THE ROAD
The Accent's interior is much simpler than the Fiesta, lacking the SYNC integration and offering fewer buttons and more intuitive controls. Hyundai insists that the interior is a "premium" offerin ...