Key Positions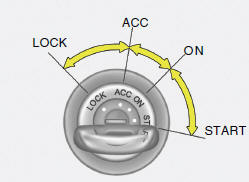 WARNING:
The engine should not be turned off or the key removed from the ignition key cylinder while the vehicle is in motion. The steering wheel is locked by removing the key.
o "START"
The engine is started in this position. It will crank until you release the key.
NOTE:
Do not hold the key in the "START" position for more than 15 seconds.
o "ON"
When the key is in the "ON" position, the ignition is on and all accessories may be turned on. If the engine is not running, the key should not be left in the "ON" position. This will discharge the battery and may also damage the ignition system.
o "ACC"
With the key in the "ACC" position, some electrical accessories (radio, etc.) may be operated.
o "LOCK"
The key can be removed or inserted in this position. To protect against theft, the steering wheel locks by removing the key.
NOTE:
If difficulty is experienced turning the ignition switch to the ACC position, turn the key while turning the steering wheel right and left to release the tension.
See also:
Hood Release
1. Pull the release knob to unlatch the hood. 2. Pull the secondary latch lever up and lift the hood. 3. Pull the support rod from the hood. 4. Hold the hood open with the support rod. Bef ...
SAFETY
The Elantra has two sets of lower Latch anchors in the second row's outboard seats. While they're buried in the seat cushions, they're not impossible to reach. My younger son, who uses a booster ...
Check Battery and Cables
Winter puts additional burdens on the battery system. Visually inspect the battery and cables as described in Section 6. The level of charge in your battery can be checked by your Hyundai dealer o ...