Key Positions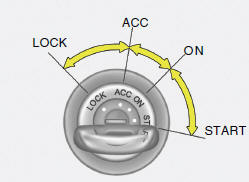 WARNING:
The engine should not be turned off or the key removed from the ignition key cylinder while the vehicle is in motion. The steering wheel is locked by removing the key.
o "START"
The engine is started in this position. It will crank until you release the key.
NOTE:
Do not hold the key in the "START" position for more than 15 seconds.
o "ON"
When the key is in the "ON" position, the ignition is on and all accessories may be turned on. If the engine is not running, the key should not be left in the "ON" position. This will discharge the battery and may also damage the ignition system.
o "ACC"
With the key in the "ACC" position, some electrical accessories (radio, etc.) may be operated.
o "LOCK"
The key can be removed or inserted in this position. To protect against theft, the steering wheel locks by removing the key.
NOTE:
If difficulty is experienced turning the ignition switch to the ACC position, turn the key while turning the steering wheel right and left to release the tension.
See also:
Removing and storing the spare tire
Turn the tire hold-down wing bolt counterclockwise. Store the tire in the reverse order of removal. To prevent the spare tire and tools from "rattling" while the vehicle is in motion, store them ...
Spare tire
TEMPORARY SPARE TIRE The following instructions for the temporary spare tire should be observed: 1. Check inflation pressure as soon as practical after installing the spare tire, and adjust to th ...
If the Engine Overheats
If your temperature gauge indicates overheating, you experience a loss of power, or hear loud pinging or knocking, the engine is probably too hot. If this happens, you should: 1. Pull off the roa ...