Key Positions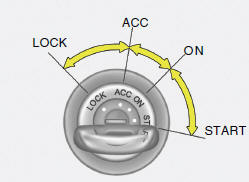 WARNING:
The engine should not be turned off or the key removed from the ignition key cylinder while the vehicle is in motion. The steering wheel is locked by removing the key.
o "START"
The engine is started in this position. It will crank until you release the key.
NOTE:
Do not hold the key in the "START" position for more than 15 seconds.
o "ON"
When the key is in the "ON" position, the ignition is on and all accessories may be turned on. If the engine is not running, the key should not be left in the "ON" position. This will discharge the battery and may also damage the ignition system.
o "ACC"
With the key in the "ACC" position, some electrical accessories (radio, etc.) may be operated.
o "LOCK"
The key can be removed or inserted in this position. To protect against theft, the steering wheel locks by removing the key.
NOTE:
If difficulty is experienced turning the ignition switch to the ACC position, turn the key while turning the steering wheel right and left to release the tension.
See also:
Vehicle setting
When the vehicle is at a standstill, pressing the TRIP button for more than 2 seconds with the engine start/stop button in the ON position or engine running, the LCD screen on the cluster will c ...
Unlocking
Using the door handle switch Press the button of the driver's outside door handle with all doors closed and locked, unlocks the driver's door. The hazard warning lights will blink and the chime w ...
Injured Person
A seat belt should be used when an injured person is being transported. When this is necessary, you should consult a physician for recommendations. ...