Key Positions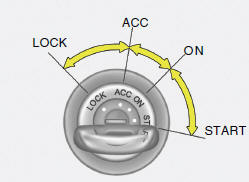 WARNING:
The engine should not be turned off or the key removed from the ignition key cylinder while the vehicle is in motion. The steering wheel is locked by removing the key.
o "START"
The engine is started in this position. It will crank until you release the key.
NOTE:
Do not hold the key in the "START" position for more than 15 seconds.
o "ON"
When the key is in the "ON" position, the ignition is on and all accessories may be turned on. If the engine is not running, the key should not be left in the "ON" position. This will discharge the battery and may also damage the ignition system.
o "ACC"
With the key in the "ACC" position, some electrical accessories (radio, etc.) may be operated.
o "LOCK"
The key can be removed or inserted in this position. To protect against theft, the steering wheel locks by removing the key.
NOTE:
If difficulty is experienced turning the ignition switch to the ACC position, turn the key while turning the steering wheel right and left to release the tension.
See also:
Certification label
The certification label is located on the driver's door sill at the center pillar. This label shows the maximum allowable weight of the fully loaded vehicle. This is called the GVWR (Gross Vehi ...
Armed Stage
Park the car and stop the engine. Arm the system as described in the following paragraph. 1) Remove the ignition key from the ignition switch. 2) Make sure that all doors, tail gate (3 Door) and ...
STEERING WHEEL TILT LEVER
To Adjust the Steering Wheel: 1. Push the lever downward to unlock. 2. Raise or lower the steering wheel to the desired position. 3. After adjustment, securely tighten the lever by pulling it upw ...