To Remove the Ignition Key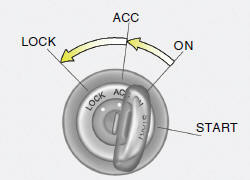 1. Turn the ignition key to the "ACC" position.
2. Simultaneously push and turn the ignition key counterclockwise from the "ACC" position to the "LOCK" position.
3. The key can be removed in the "LOCK" position.
See also:
Additional safety precautions
• Never let passengers ride in the cargo area or on top of a foldeddown back seat. All occupants should sit upright, fully back in their seats with their seat belts on and their feet on the floor. ...
Driveshafts and Boots
Check the drive shafts, boots and clamps for cracks, deterioration, or damage. Replace any damaged parts and, if necessary, repack the grease. ...
Cruise Control System
The cruise control system allows you to program the vehicle to maintain a constant speed without resting your foot on the accelerator pedal. This system is designed to function above approximately ...