AUX, USB AND iPod® PORT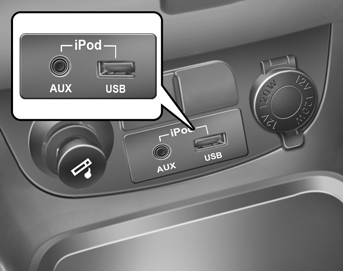 If your vehicle has an aux and/or USB(universal serial bus) port or iPod port, you can use an aux port to connect audio devices, a USB port to plug in a USB, and an iPod port to plug in an iPod. When using an iPod through the vehicle's Audio System, a Hyundai adapter cable is required in order to receive all functions, which can be purchased at your local Hyundai dealership.
NOTE:
When using a portable audio device connected to the power outlet, noise may occur during playback. If this happens, use the power source of the portable audio device.
See also:
Catalytic Converter
Hyundai vehicle is equipped with a monolith type three-way catalytic converter to reduce the carbon monoxide, hydrocarbons and nitrogen oxides contained in the exhaust gas. Exhaust gases passing ...
NEW 5.0 R-SPEC: MOST POWERFUL HYUNDAI V8 ENGINE EVER
The heart of the Hyundai Genesis 5.0 R-Spec model is a new Tau V8 engine producing 429 horsepower at 6,400 rpm and 376 lb. ft. of torque at 5,000 rpm. This new Tau V8 represents the most powerful ...
Brake discs, pads, calipers and rotors
Check the pads for excessive wear, discs for run out and wear, and calipers for fluid leakage. ...