Air cnditioning care
Keeping the Condenser Clean
The air conditioning condenser (and engine radiator) should be checked periodically for accumulation of dirt, dead insects, leaves, etc.
These can interfere with maximum cooling efficiency.
When removing such accumulations, brush or hose them away carefully to avoid bending the cooling fans.
Checking the Air Conditioning Operation
1. Start the engine and let it run at a fast idle for several minutes with the air conditioning set at the maximum cold setting.
2. If the air coming out of the in-dash vents is not cold, have the air conditioning system inspected by your Hyundai dealer.
CAUTION:
Running the air conditioning system for extended periods of time with a low refrigerant level may damage the compressor.
Lubrication
To lubricate the compressor and the seals in the system, the air conditioning should be run for at least 10 minutes each week. This is particularly important during cool weather when the air conditioning system is not otherwise in use.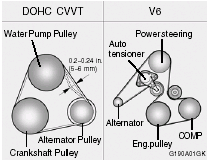 Checking the Compressor Drive Belt
When the air conditioning is being used regularly, the compressor drive belt tension should be checked at least once a month with the engine turned off.
To check the drive belt tension, press down on the belt halfway between the engine crankshaft and compressor pulleys. Pressing with your finger, you should not be able to deflect this belt anymore than 1/3 of an inch. If the belt is too loose, have it adjusted by your Hyundai dealer.
See also:
Vehicle Exterior
The following should be checked monthly: o Overall appearance and condition o Wheel condition and wheel nut tightness o Exhaust system condition o Light condition and operation o Windshield glass ...
Check battery and cables
Winter puts additional burdens on the battery system. Visually inspect the battery and cables as described in section 7. The level of charge in your battery can be checked by an authorized HYUNDAI ...
ADVANCED STANDARD SAFETY TECHNOLOGIES: PART OF HYUNDAI'S ASSURANCE COMMITMENT
The 2005 Tucson was the first Hyundai model to feature standard ESC (Electronic Stability Control) upon its launch in fall 2004. It was also the first vehicle under $20,000 with standard ESC and s ...