To increase cruise control set speed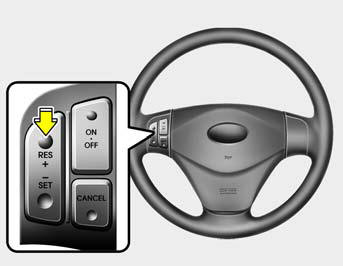 Follow either of these procedures: o Push the RES/+ switch and hold it. Your vehicle will accelerate. Release the switch at the speed you want.
o Push the RES/+ switch and release it immediately. The cruising speed will increase by 1 mph (1.6 km/h) each time the RES/+ switch is operated in this manner.
See also:
Injured Person
A seat belt should be used when an injured person is being transported. When this is necessary, you should consult a physician for recommendations. ...
Check Spark Plugs and Ignition System
Inspect your spark plugs and replace them if necessary. Also check all ignition wiring and components to be sure they are not cracked, worn or damaged in any way. ...
Front Fog Light (If Installed)
NOTE: It is recommended that the front fog light bulb be replaced by an authorized Hyundai dealer. ...