Child Restraint System Installation on Rear Seat Center Position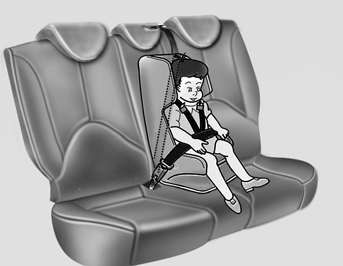 Use the center seat belt for the rear seat to secure the child restraint system as illustrated. After installation of the child restraint system, rock the child seat back and forth, and side to side to ensure that it is properly secured by the seat belt. If the child seat moves, readjust the length of the seat belt. Then, if equipped, insert the child restraint tether strap hook into the child restraint hook holder and tighten to secure the seat. Always refer to the child restraint system manufacturer's recommendation before installing the child restraint system in your vehicle.
See also:
Filling the washer reservoir
The washer fluid reservoir supplies fluid to the front and rear washer systems. A good quality washer fluid should be used to fill the washer reservoir. The fluid level should be checked more fr ...
Exhaust Emission Control System
The Exhaust Emission Control System is a highly effective system which controls exhaust emissions while maintaining good vehicle performace. ...
If you have a flat tire while driving
If a tire goes flat while you are driving: 1.Take your foot off the accelerator pedal and let the car slow down while driving straight ahead. Do not apply the brakes immediately or attempt to pull ...