Child Restraint System Installation on Rear Seat Center Position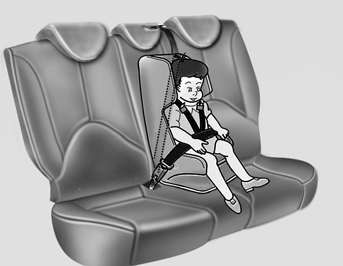 Use the center seat belt for the rear seat to secure the child restraint system as illustrated. After installation of the child restraint system, rock the child seat back and forth, and side to side to ensure that it is properly secured by the seat belt. If the child seat moves, readjust the length of the seat belt. Then, if equipped, insert the child restraint tether strap hook into the child restraint hook holder and tighten to secure the seat. Always refer to the child restraint system manufacturer's recommendation before installing the child restraint system in your vehicle.
See also:
Tire Chains
Tire chains, if necessary, should be installed on the front wheels. Be sure that the chains are installed in accordance with the manufacturer's instructions. To minimize tire and chain wear, do ...
Folding Rear Seatbacks
The rear seatbacks may be folded to facilitate carrying long items or to increase the luggage capacity of the vehicle. WARNING: The purpose of the fold-down rear seatbacks is to allow you to carry ...
One Person Per Belt
Two people (including children) should never attempt to use a single seat belt. This could increase the severity of injuries in case of an accident. ...