Child Restraint System Installation on Rear Seat Center Position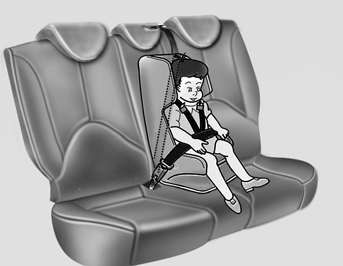 Use the center seat belt for the rear seat to secure the child restraint system as illustrated. After installation of the child restraint system, rock the child seat back and forth, and side to side to ensure that it is properly secured by the seat belt. If the child seat moves, readjust the length of the seat belt. Then, if equipped, insert the child restraint tether strap hook into the child restraint hook holder and tighten to secure the seat. Always refer to the child restraint system manufacturer's recommendation before installing the child restraint system in your vehicle.
See also:
DIGITAL CLOCK
There are three control buttons for the digital clock. Their functions are: HOUR - Push "H" to advance the hour indicated. MIN - Push "M" to advance the minute indicated. RESE ...
Air cnditioning care
Keeping the Condenser Clean The air conditioning condenser (and engine radiator) should be checked periodically for accumulation of dirt, dead insects, leaves, etc. These can interfere with maximu ...
BI-LEVEL HEATING
Your Hyundai is equipped with bi-level heating controls. This makes it possible to have cooler air from the dashboard vents and warmer air from the floor outlets at the same time. To use this fe ...