Folding the Outside Rearview Mirrors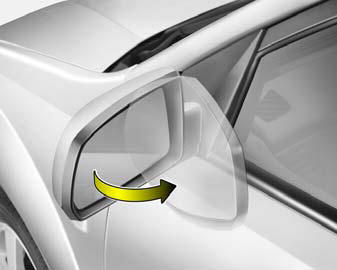 To fold the outside rearview mirrors, push them towards the rear. To unfold the outside rear view mirrors, push them toward the front.
The outside rearview mirrors can be folded rearward for parking in restricted areas.
WARNING:
Do not adjust or fold the outside rearview mirrors while the vehicle is moving. This could result in loss of control, and an accident causing death, serious injury or property damage.
See also:
Headlight Flasher
To flash the headlights, pull the switch lever toward you, then release it. The headlights can be flashed even though the headlight switch is in the "OFF" position. ...
Snowy or Icy Conditions
To drive your vehicle in deep snow, it may be necessary to use snow tires or to install tire chains on your tires. If snow tires are needed, it is necessary to select tires equivalent in size and ...
Tire chains
Tire chains, if necessary, should be installed on the front wheels. Be sure that the chains are installed in accordance with the manufacturer's instructions. To minimize tire and chain wear, do ...