Electric Type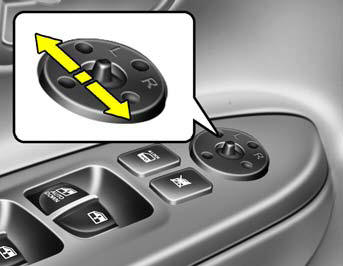 The outside rearview mirrors can be adjusted to your preferred rear vision, both directly behind the vehicle, and to the rear of the left and right sides.
The remote control outside rearview mirror switch controls the adjustments for both right and left outside mirrors.
To adjust the position of either mirror:
1. Move the selecting switch to the right or left to activate the adjustable mechanism for the corresponding door mirror.
2. Adjust mirror angle by depressing the appropriate directional switch as illustrated.
CAUTION:
o Do not operate the switch continuously for an unnecessary length of time.
o Scraping ice from the mirror face could cause permanent damage. To remove any ice, use a sponge, soft cloth or approved de-icer.
WARNING:
Be careful when judging the size or distance of any object seen in the passenger side rearview mirror. It is a convex mirror with a curved surface. Any objects seen in this mirror are closer than they appear.
See also:
A Cabin That Matches the Exterior's Promise
The Elantra's exterior sets high design expectations, but the cabin gets a fair dose of style itself. It's stylish in numerous ways, from the simple yet elegant ventilation system knobs to the sle ...
If you have a flat tire
If a tire goes flat while you are driving: 1. Take your foot off the accelerator pedal and let the car slow down while driving straight ahead. Do not apply the brakes immediately or attempt to pu ...
Locking doors
1. Close all doors. 2. Push the "LOCK" button on the transmitter. 3. At the same time all doors lock, the turn signal light will blink once to indicate that the system is locked. ...