Electric Type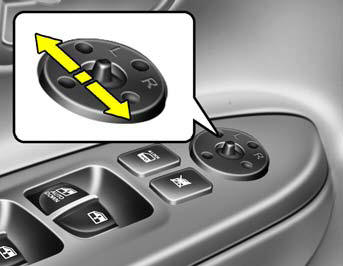 The outside rearview mirrors can be adjusted to your preferred rear vision, both directly behind the vehicle, and to the rear of the left and right sides.
The remote control outside rearview mirror switch controls the adjustments for both right and left outside mirrors.
To adjust the position of either mirror:
1. Move the selecting switch to the right or left to activate the adjustable mechanism for the corresponding door mirror.
2. Adjust mirror angle by depressing the appropriate directional switch as illustrated.
CAUTION:
o Do not operate the switch continuously for an unnecessary length of time.
o Scraping ice from the mirror face could cause permanent damage. To remove any ice, use a sponge, soft cloth or approved de-icer.
WARNING:
Be careful when judging the size or distance of any object seen in the passenger side rearview mirror. It is a convex mirror with a curved surface. Any objects seen in this mirror are closer than they appear.
See also:
Rear Brake Drums/Linings, Parking Brake
Check the rear brake drums and linings for scoring, burning, leaking fluid, broken parts, and excessive wear. Inspect the parking brake system including the parking brake lever and cables. For det ...
Bi-level heating
Your Hyundai is equipped with bi-level heating controls. To use this feature: o Set the air intake control to the fresh air () position. o Set the air flow control at the bi-level () position. ...
Checking the Battery
WARNING: Batteries can be dangerous! When working with batteries, carefully observe the following precautions to avoid serious injuries. The fluid in the battery contains a strong solution of su ...