If Engine Doesn't Turn Over or Turns Over Slowly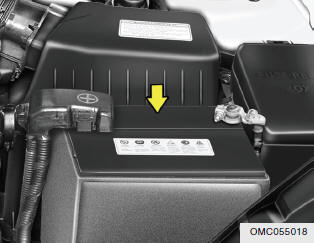 1. If your car has an automatic transaxle, be sure the gear selector lever is in "N" or "P" and the emergency brake is set.
2. Check the battery connections to be sure they are clean and tight.
3. Turn on the interior light. If the light dims or goes out when you operate the starter, the battery is discharged.
4. Check the starter connections to be sure they are securely tightened.
5. Do not push or pull the vehicle to start it. See instructions for "Jump Starting".
See also:
Seats
Driver's seat (1) Forward and backward (2) Seatback angle (3) Seat cushion height (4) Lumbar support* (5) Seat warmer* (6) Headrest Front passenger's seat (7) Forward and backward (8) Seatb ...
Changing the Air Cleaner Filter
The replacement of air cleaner filter is performed in the following manner. 1. Unsnap the clips around the cover. 2. When this is done, the cover can be lifted off, the old filter removed and the ...
Checking the transaxle oil (manual)
Transaxle lubricant in the manual transaxle should be checked at those intervals specified in the vehicle maintenance schedule in Section 5. Recommended Oil Use only HYUNDAI GENUINE PARTS MTF 7 ...