Tilting the Sunroof System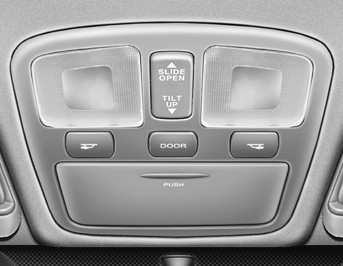 Auto tilt up
To use the auto tilt feature, press the TILT UP button on the overhead console for more than 1 second. The sunroof will tilt all the way open. To stop the sunroof tilting at any point, press any sunroof control button.
Manual tilt up
Press the TILT UP button on the overhead console for less than 0.5 second.
Manual tilt down
To close the sunroof, press the SLIDE OPEN button on the overhead console and hold it until the sunroof is closed.
NOTE:
After washing the car or after there is rain, be sure to wipe off any water that is on the sunroof before operating it.
WARNING:
o Do not close a sunroof if anyone's hands, arms or body are between the sliding glass and the sunroof sash, as this could result in injury.
o Do not place your head or arms out of the sunroof opening at any time.
o While the vehicle is moving, always keep the head, hands and other parts of the body of all occupants away from the roof opening. Otherwise, you could be seriously injured if the vehicle stops suddenly or if the vehicle is involved in an accident.
CAUTION:
o Do not open the sunroof in severely cold temperature or when it is covered with ice or snow.
o Periodically remove any dirt that may have accumulated on the guide rails.
o Do not press any sunroof control button longer than necessary. Damage to the motor or system components could occur.
See also:
Check Battery and Cables
Winter puts additional burdens on the battery system. Visually inspect the battery and cables as described in Section 6. The level of charge in your battery can be checked by your Hyundai dealer o ...
Parking brake
Applying the parking brake To engage the parking brake, first apply the foot brake and then without pressing the release button in, pull the parking brake lever up as far as possible. In additio ...
2010 Hyundai Tucson review by Warren Brown
Old-school automotive journalism emphasizes speed, handling and something called "fun-to-drive." It treats every vehicle, be it family sedan or crossover utility model, as if it were a h ...