Tilting the Sunroof System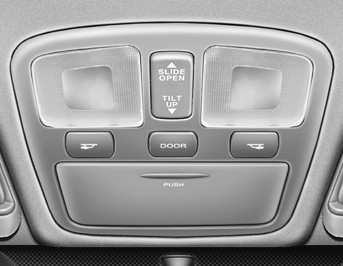 Auto tilt up
To use the auto tilt feature, press the TILT UP button on the overhead console for more than 1 second. The sunroof will tilt all the way open. To stop the sunroof tilting at any point, press any sunroof control button.
Manual tilt up
Press the TILT UP button on the overhead console for less than 0.5 second.
Manual tilt down
To close the sunroof, press the SLIDE OPEN button on the overhead console and hold it until the sunroof is closed.
NOTE:
After washing the car or after there is rain, be sure to wipe off any water that is on the sunroof before operating it.
WARNING:
o Do not close a sunroof if anyone's hands, arms or body are between the sliding glass and the sunroof sash, as this could result in injury.
o Do not place your head or arms out of the sunroof opening at any time.
o While the vehicle is moving, always keep the head, hands and other parts of the body of all occupants away from the roof opening. Otherwise, you could be seriously injured if the vehicle stops suddenly or if the vehicle is involved in an accident.
CAUTION:
o Do not open the sunroof in severely cold temperature or when it is covered with ice or snow.
o Periodically remove any dirt that may have accumulated on the guide rails.
o Do not press any sunroof control button longer than necessary. Damage to the motor or system components could occur.
See also:
Hood release
1. Pull the release knob to unlatch the hood. 2. Push the secondary latch lever to the left and lift the hood. 3. Hold the hood open with the support rod. Before closing the hood, return t ...
15,000 miles (24,000 km) or 12 months
❑ Inspect air cleaner filter ❑ Inspect vacuum hose ❑ Inspect air conditioning refrigerant ❑ Inspect brake hoses and lines ❑ Inspect drive shafts and boots d ...
High beam operation
To turn on the high beam headlights, push the lever away from you. Pull it back for low beams. The high beam indicator will light when the headlight high beams are switched on. To prevent the ...