Tilting the Sunroof System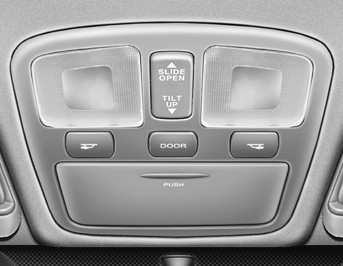 Auto tilt up
To use the auto tilt feature, press the TILT UP button on the overhead console for more than 1 second. The sunroof will tilt all the way open. To stop the sunroof tilting at any point, press any sunroof control button.
Manual tilt up
Press the TILT UP button on the overhead console for less than 0.5 second.
Manual tilt down
To close the sunroof, press the SLIDE OPEN button on the overhead console and hold it until the sunroof is closed.
NOTE:
After washing the car or after there is rain, be sure to wipe off any water that is on the sunroof before operating it.
WARNING:
o Do not close a sunroof if anyone's hands, arms or body are between the sliding glass and the sunroof sash, as this could result in injury.
o Do not place your head or arms out of the sunroof opening at any time.
o While the vehicle is moving, always keep the head, hands and other parts of the body of all occupants away from the roof opening. Otherwise, you could be seriously injured if the vehicle stops suddenly or if the vehicle is involved in an accident.
CAUTION:
o Do not open the sunroof in severely cold temperature or when it is covered with ice or snow.
o Periodically remove any dirt that may have accumulated on the guide rails.
o Do not press any sunroof control button longer than necessary. Damage to the motor or system components could occur.
See also:
Good Braking Practices
WARNING: o Whenever leaving vehicle or parking, always set the parking brake as far as possible and fully engage the vehicle's transaxle into the P (Park) position (automatic transaxle) or in ...
Manual climate control system
To defog inside windshield 1. Select any fan speed except У0Ф position. 2. Select desired temperature. 3. Select the or position. 4. The outside (fresh) air will be selected automatically. I ...
Exterior
The original Genesis was an understated sedan. The attractive grille Ч sans the Hyundai "H" logo Ч was probably the most unique feature. For 2012 you'd have to say the redesigned headlig ...