REAR DRINK HOLDER (If Installed)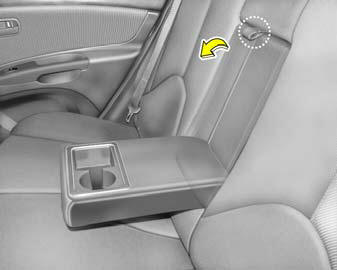 The rear drink holder is located in the rear seat armrest for holding cups or cans. The rear drink holder can be used by pulling the rear seat armrest.
WARNING:
Use caution when using the drink holders. A spilled beverage that is very hot can injure your passengers. Spilled liquids can damage interior trim.
See also:
WORLD CLASS POWER-TO-WEIGHT RATIO
One of the program targets for the 2011 Sonata engineering team was world-class power-to-weight ratio. Power-to-weight ratio pays dividends in both performance and fuel economy. Hyundai Sonata i ...
Evaporative Emission Control (Including ORVR: Onboard Refueling Vapor Recovery) System
The Evaporative Emission Control System is designed to prevent fuel vapors from escaping into the atmosphere. (The ORVR system is designed to allow the vapors from the fuel tank to be loaded into ...
Checking the free-play
STEERING WHEEL To check the steering wheel free-play, stop the car with the wheels pointed straight ahead and gently move the steering wheel back and forth. Use very light finger pressure and be ...