REAR WINDOW DEFROSTER SWITCH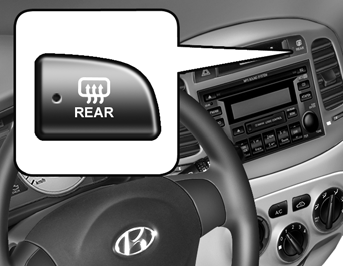 The rear window defroster is turned on by pushing in the switch. To turn the defroster off, push the switch a second time. The rear window defroster automatically turns itself off after about 20 minutes. To restart the defroster cycle, push in the switch again after it has turned itself off.
CAUTION:
Do not clean the inner side of the rear window glass with an abrasive type of glass cleaner or use a scraper to remove foreign deposits from the inner surface of the glass as this may cause damage to the defroster elements.
NOTE:
The engine must be running for the rear window defroster to operate.
See also:
Exterior
The original Genesis was an understated sedan. The attractive grille — sans the Hyundai "H" logo — was probably the most unique feature. For 2012 you'd have to say the redesigned headlig ...
Seat belts
SEAT BELT PRECAUTIONS WARNING: All occupants of the vehicle must wear their seat belts at all times. Seat belts and child restraints reduce the risk of serious or fatal injuries for all occupants ...
Exhaust Pipe and Muffler
Visually inspect the exhaust pipes, muffler and hangers for cracks, deterioration, or damage. Start the engine and listen carefully for any exhaust gas leakage. Tighten connections or replace part ...