REAR WINDOW DEFROSTER SWITCH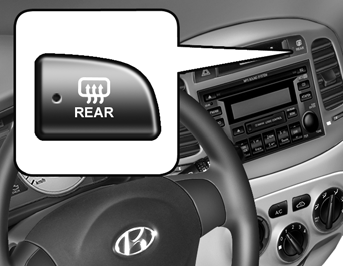 The rear window defroster is turned on by pushing in the switch. To turn the defroster off, push the switch a second time. The rear window defroster automatically turns itself off after about 20 minutes. To restart the defroster cycle, push in the switch again after it has turned itself off.
CAUTION:
Do not clean the inner side of the rear window glass with an abrasive type of glass cleaner or use a scraper to remove foreign deposits from the inner surface of the glass as this may cause damage to the defroster elements.
NOTE:
The engine must be running for the rear window defroster to operate.
See also:
Keep Your Car Clean
The best way to prevent corrosion is to keep your car clean and free of corrosive materials. Attention to the underside of the car is particularly important. o If you live in a high-corrosion area ...
Engine Exhaust can be Dangerous!
Engine exhaust fumes can be extremely dangerous. If, at any time, you smell exhaust fumes inside the vehicle, open the windows immediately. o Do not inhale exhaust fumes. Exhaust fumes contain car ...
STEERING WHEEL TILT LEVER
To Adjust the Steering Wheel: 1. Push the lever downward to unlock. 2. Raise or lower the steering wheel to the desired position. 3. After adjustment, securely tighten the lever by pulling it upw ...