REAR WINDOW DEFROSTER SWITCH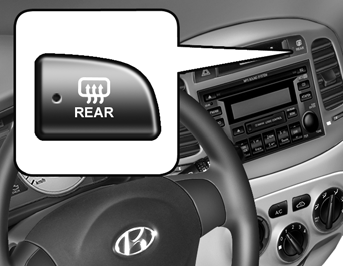 The rear window defroster is turned on by pushing in the switch. To turn the defroster off, push the switch a second time. The rear window defroster automatically turns itself off after about 20 minutes. To restart the defroster cycle, push in the switch again after it has turned itself off.
CAUTION:
Do not clean the inner side of the rear window glass with an abrasive type of glass cleaner or use a scraper to remove foreign deposits from the inner surface of the glass as this may cause damage to the defroster elements.
NOTE:
The engine must be running for the rear window defroster to operate.
See also:
Starting
WARNING: Never run the engine in a closed or poorly ventilated area any longer than is needed to move your car in or out of the area. The carbon monoxide gas emitted is odorless and can cause s ...
Cigarette lighter
For the cigarette lighter to work, the key must be in the "ACC" position or the "ON" position. To use the cigarette lighter, push it all the way into its socket. When the elem ...
To turn cruise control off, do one of the following
o Push the CRUISE ON-OFF button (the CRUISE indicator light in the instrument cluster will go off). o Turn the ignition off. Both of these actions cancel cruise control operation. If you want to ...