REAR WINDOW DEFROSTER SWITCH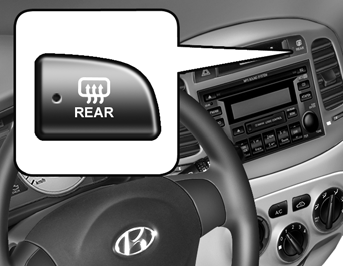 The rear window defroster is turned on by pushing in the switch. To turn the defroster off, push the switch a second time. The rear window defroster automatically turns itself off after about 20 minutes. To restart the defroster cycle, push in the switch again after it has turned itself off.
CAUTION:
Do not clean the inner side of the rear window glass with an abrasive type of glass cleaner or use a scraper to remove foreign deposits from the inner surface of the glass as this may cause damage to the defroster elements.
NOTE:
The engine must be running for the rear window defroster to operate.
See also:
COLOR PALETTE
The 2012 Hyundai Accent GLS is available with gray or beige two-tone interior. The five-door GS and SE trims are available with a gray interior or a monotone black interior. All Accents have cloth ...
Exterior
When you think subcompact, interesting design doesn't immediately come to mind. Look at cars like the Yaris, Fit and Nissan Versa, and you won't be wowed. Buyers in this segment have been basicall ...
Protecting Your Hyundai from Corrosion
By using the most advanced design and construction practices to combat corrosion, Hyundai produces cars of the highest quality. However, this is only part of the job. To achieve the long term corr ...