Adjustable Intermittent Wiper Operation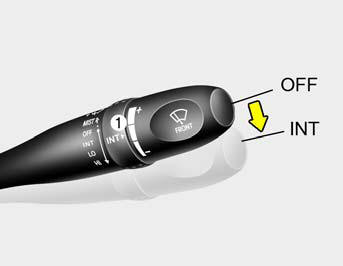 To use the intermittent wiper feature, place the wiper switch in the "INT" position. With the switch in this position, the interval between wipes can be varied from approximately 1 to 15 seconds by turning the interval adjuster barrel (1).
See also:
Trailer or vehicle towing
If you are considering towing with your car, you should first check with your State's Department of Motor Vehicles to determine their legal requirements. Since laws vary from State to State the req ...
Care of seat belts
Seat belt systems should never be disassembled or modified. In addition, care should be taken to assure that seat belts and belt hardware are not damaged by seat hinges, doors or other abuse. WAR ...
RADIO, SET UP, VOLUME CONTROL (PA710S) (If Installed)
1. AM Selection Button 2. FM Selection Button 3. XM Selection Button 4. Automatic Channel Selection Button 5. Power ON/OFF Button & Volume Control Button 6. SCAN Button 7. MUTE Button 8. ...