Adjustable Intermittent Wiper Operation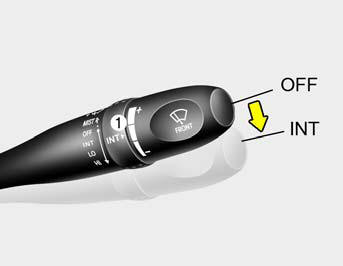 To use the intermittent wiper feature, place the wiper switch in the "INT" position. With the switch in this position, the interval between wipes can be varied from approximately 1 to 15 seconds by turning the interval adjuster barrel (1).
See also:
If the Engine Will Not Start
WARNING: If the engine will not start, do not push or pull the car to start it. This could result in a collision or cause other damage. In addition, push or pull starting may cause the catalytic ...
Vacuum, Crankcase Ventilation Hoses
Inspect the surface of hoses for evidence of heat and/or mechanical damage. Hard and brittle rubber, cracking, tears, cuts, abrasions, and excessive swelling indicate deterioration. Particular att ...
To decrease the cruising speed
Follow either of these procedures: o Push the -/SET switch and hold it. Your vehicle will gradually slow down. Release the switch at the speed you want to maintain. o Push the -/SET switch and r ...