Adjustable Intermittent Wiper Operation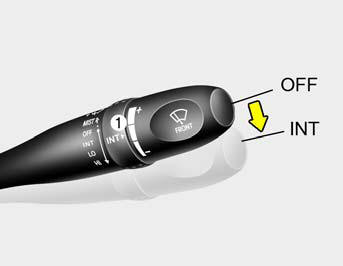 To use the intermittent wiper feature, place the wiper switch in the "INT" position. With the switch in this position, the interval between wipes can be varied from approximately 1 to 15 seconds by turning the interval adjuster barrel (1).
See also:
General Checks
These are the regular checks you should perform when you drive your Hyundai or you fill the fuel tank. A list of these items will be found on page 6-4. ...
Air Conditioning Switch
The air conditioning is turned on by pushing the A/C button on the heating/air conditioning control panel. ...
If the engine overheats
If your temperature gauge indicates overheating, you experience a loss of power, or hear loud pinging or knocking, the engine is probably too hot. If this happens, you should: 1. Pull off the roa ...