ODOMETER/TRIP ODOMETER (Without Trip Computer)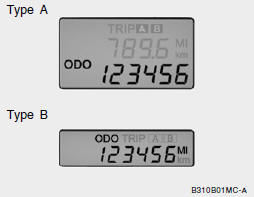 1. Odometer
The odometer records the total driving distance in miles, and is useful for keeping a record for maintenance intervals.
NOTE:
Federal law forbids alteration of the odometer of any vehicle with the intent to change the number of the odometer. The alteration may void your warranty coverage.
2. Trip Odometer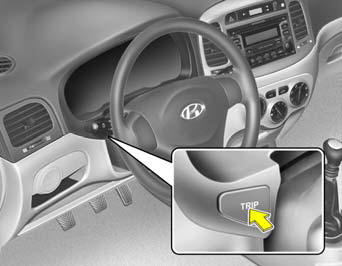 Pushing in the trip switch for less than 1 second when the ignition switch is turned "ON" displays the following sequence: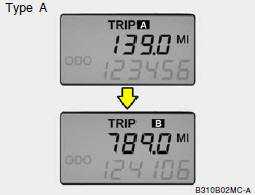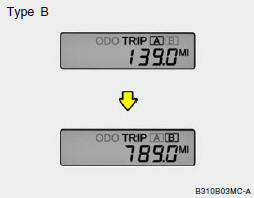 Trip odometer records the distance of 2 trips in miles.
o TRIP A: Distance you have traveled from your origination point to a first destination.
o TRIP B: Distance from the first destination to the final destination. When the trip switch is pressed for more than 1 second, trip odometer will reset to 0.o ECO ON/OFF Mode (If Installed)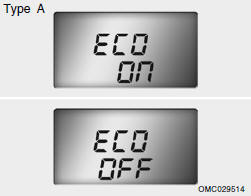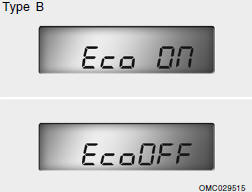 You can turn the ECO indicator on/off on the instrument cluster in this mode. If you push the TRIP button more than 1 second in the ECO ON mode, ECO OFF is displayed and the ECO indicator (

) turns off.
If you want to display the ECO indicator (

) again, press the TRIP button more
than 1 second in the ECO OFF mode and then ECO ON mode is displayed. For more detailed explanations, refer to "Warnings and indicator lights" in section 1.
See also:
2010 Hyundai Genesis Coupe review by Jim Mateja
The 2009 Hyundai Genesis sedan surprised many when it captured the North American Car of the Year award from the nation's automotive wordsmiths. Hyundai had won a loyal, if limited, following in t ...
Loosen Wheel Nuts
The wheel nuts should be loosened slightly before raising the car. To loosen the nuts, turn the wrench handle counterclockwise. When doing this, be sure that the socket is seated completely over ...
2012 Hyundai Accent Review
Considering how much of a wretched piece of junk the old Hyundai Accent was, improving on the car (once known for being offered at a sub-$10,000 sticker price) was an easy task. With such a strong ...