SEAT BELT-Driver's 3-Point System with Emergency Locking Retractor To Fasten Your Belt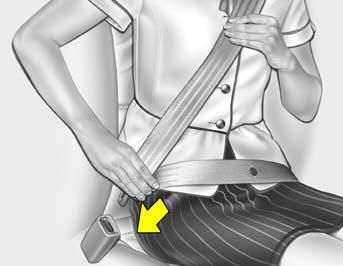 To fasten your seat belt, pull it out of the retractor and insert the metal tab into the buckle. There will be an audible "click" when the tab locks into the buckle.
The seat belt automatically adjusts to the proper length only after the lap belt is adjusted manually so that it fits snugly around your hips. If you lean forward in a slow, easy motion, the belt will extend and let you move around. If there is a sudden stop or impact, however, the belt will lock into position. It will also lock if you try to lean forward too quickly.
NOTE:
If the seat belt is not fastened when the ignition key is turned from the "OFF" position to the "ON" position, the seat belt warning will activate to remind the driver to fasten the seat belt as follows.
See also:
Starting
Starting WARNING: Never run the engine in a closed or poorly ventilated area any longer than is needed to move your car in or out of the area. The carbon monoxide gas emitted is odorless and c ...
Genesis Coupe in the Market
Whether you'll like the Genesis coupe depends a lot on how hard you'll drive it. While sports car enthusiasts might not be fully satisfied with its dynamics, shoppers looking for a nicely equipped ...
Drive belts
Inspect all drive belts for evidence of cuts, cracks, excessive wear or oil saturation and replace if necessary. Drive belts should be checked periodically for proper tension and adjusted as neces ...