SEAT BELT-Driver's 3-Point System with Emergency Locking Retractor To Fasten Your Belt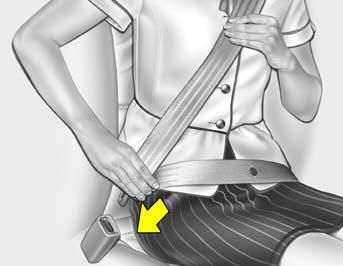 To fasten your seat belt, pull it out of the retractor and insert the metal tab into the buckle. There will be an audible "click" when the tab locks into the buckle.
The seat belt automatically adjusts to the proper length only after the lap belt is adjusted manually so that it fits snugly around your hips. If you lean forward in a slow, easy motion, the belt will extend and let you move around. If there is a sudden stop or impact, however, the belt will lock into position. It will also lock if you try to lean forward too quickly.
NOTE:
If the seat belt is not fastened when the ignition key is turned from the "OFF" position to the "ON" position, the seat belt warning will activate to remind the driver to fasten the seat belt as follows.
See also:
Low Fuel Level Warning Light
The low fuel level warning light comes on when the fuel tank is approaching empty. When it comes on, you should add fuel as soon as possible. Driving with the fuel level warning light on or with ...
Tire traction
Tire traction can be reduced if you drive on worn tires, tires that are improperly inflated or on slippery road surfaces. Tires should be replaced when tread wear indicators appear. To reduce the ...
Styling
The redesigned Elantra makes a good case for being the most stylish new compact sedan on the market. The car's designer, Cedric D'Andre, said one of the goals of the design was to create a car tha ...