HEIGHT ADJUSTABLE FRONT SEAT SHOULDER BELT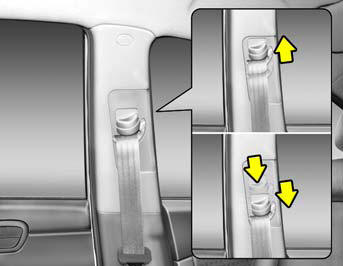 You can adjust the height of the shoulder belt anchor to one of the 4 positions for maximum comfort and safety.
If the height of the seat belt is too near your neck, you will not be getting the most effective protection. The shoulder portion should be adjusted so that it lies across your chest and midway over your shoulder nearest the door and not your neck. To adjust the height of the seat belt anchor, lower or raise the height adjuster into an appropriate position. To raise the height adjuster, pull it up.
To lower it, push it down while pressing the height adjuster button. Release the button to lock the anchor into position. Try sliding the height adjuster to make sure that it has locked into the position.
CAUTION:
o Adjust the shoulder belt height when you sit well back in the seat.
o When adjusting the shoulder belt height, grip the height adjuster button securely and slide the height adjuster up or down.
o If the shoulder belt anchor is not moved, grasp the shoulder part of the belt and pull forward to the full.
WARNING:
o Verify the shoulder belt anchor is locked into position at the appropriate height. Never position the shoulder belt across your neck or face. Improperly positioned seat belts can cause serious injuries in an accident.
o Failure to replace seat belts after an accident could leave you with damaged seat belts that will not provide protection in the event of another collision leading to personal injury or death. Replace your seat belts after being in an accident as soon as possible.
See also:
Exterior & Interior Styling
Save for the standard 18-inch alloy wheels and dual exhaust, there's not much inside or out that differentiates the 2.0T from the non-turbo Sonata. I found the driver's seat comfortable, and mater ...
Safety
For a car with this much power, safety is also at the top of the priority list. Hyundai is a leading innovator in safety, offering all its vehicles' safety features as standard equipment rather th ...
CARE OF DISCS
Proper Handling Handle your disc as shown. Do not drop the disc. Hold the disc so you will not leave fingerprints on the surface. If the surface is scratched, it may cause the pickup to skip si ...