Checking the battery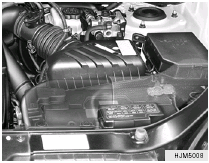 WARNING:
Batteries can be dangerous! When working with batteries, carefully observe the following precautions to avoid serious injuries.
The fluid in the battery contains a strong solution of sulfuric acid, which is poisonous and highly corrosive. Be careful not to spill it on yourself or the car. If you do spill battery fluid on yourself, immediately do the following: o If battery fluid is on your skin, flush the affected areas with water for at least 15 minutes and then seek medical assistance.
o If battery fluid is in your eyes, rinse out your eyes with water and get medical assistance as soon as possible. While you are being driven to get medical assistance, continue to rinse your eyes by using a sponge or soft cloth saturated with water.
o If you swallow battery fluid, drink a large quantity of water or milk followed by milk of magnesia, eat a raw egg or drink vegetable oil. Get medical assistance as soon as possible.
While batteries are being charged (either by a battery charger or by the vehicle's generator), they produce explosive gases. Always observe these warnings to prevent injuries from occurring:
o Charge batteries only in a well ventilated area.
o Do not permit flames, sparks or smoking in the area.
o Keep children away from the area.
Checking the Battery
Keep the battery clean. Any evidence of corrosion around the battery posts or terminals should be removed using a solution of household baking soda and warm water. After the battery terminals are dry, cover them with a light coating of grease.
PROPOSITION 65 WARNING: Battery posts, terminals, and related accessories contain lead and lead compounds, chemicals known to the State of California to cause cancer and reproductive harm.
Batteries also contain other chemicals known to the State of California to cause cancer. Wash hands after handling.
See also:
RADIO, SET UP, VOLUME CONTROL (PA710) (If Installed)
1. AM Selection Button 2. FM Selection Button 3. Automatic Channel Selection Button 4. Power ON/OFF & Volume Control Button 5. SCAN Button 6. MUTE Button 7. SETUP Button 8. TUNE/ENTER But ...
Mode selection
The mode selection button controls the direction of the air flow through the ventilation system. The air flow outlet port is converted as follows: Air flow is directed toward the upper body an ...
Interior light
Map Light Push in the map light switch to turn the light on or off. This light is convenient as a map light at night or as a personal light for the driver and the passenger. INTERIOR LIGHT T ...