Removal and installation (If Installed)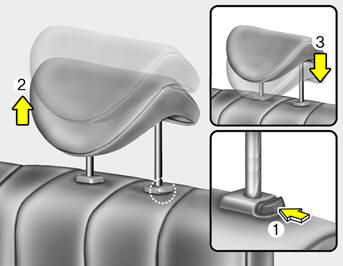 To remove the headrest, raise it as far as it can go then press the release button (1) while pulling upward (2).
To reinstall the headrest, put the headrest poles (3) into the holes while pressing the release button (1). Then adjust it to the appropriate height.
WARNING:
Make sure the headrest locks in position after adjusting it to properly protect the occupants.
See also:
Headrest
The rear seat(s) is equipped with headrests in all the seating positions for the occupant's safety and comfort. The headrest not only provides comfort for passengers, but also helps to protec ...
Heating and air conditioning
1. Start the engine. 2. Set the mode to the desired position. To improve the effectiveness of heating and cooling : - Heating: - Cooling: 3. Set the temperature control to the desired position. ...
Use of E85 fuel
E85 fuel is an alternative fuel composed of 85 percent ethanol and 15 percent gasoline, and is manufactured for use in Flexible Fuel Vehicles. E85 is not compatible with your vehicle. Use of E85 m ...