Removal and installation (If Installed)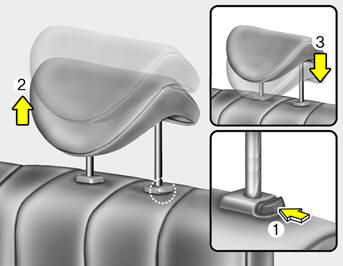 To remove the headrest, raise it as far as it can go then press the release button (1) while pulling upward (2).
To reinstall the headrest, put the headrest poles (3) into the holes while pressing the release button (1). Then adjust it to the appropriate height.
WARNING:
Make sure the headrest locks in position after adjusting it to properly protect the occupants.
See also:
2010 Hyundai Genesis Coupe review by Bill Griffith
The plan was to make a legal U-turn in front of my house. The street is so wide that I'm almost able to make the swing without backing up; unfortunately there's not quite enough room. At this pi ...
Instrument panel illumination
When the vehicle's parking lights or headlights are on, push the illumination control switch left or right to adjust the brightness of the instrument panel illumination. The illumination inten ...
105,000 miles (168,000 km) or 84 months
❑ Inspect air cleaner filter ❑ Inspect vacuum hose ❑ Inspect air conditioning refrigerant ❑ Inspect brake hoses and lines ❑ Inspect drive shafts and boots d ...