Removal and installation (If Installed)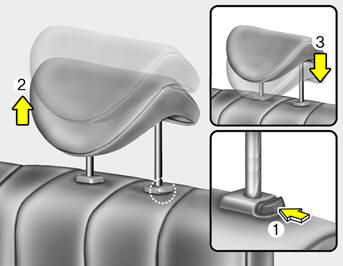 To remove the headrest, raise it as far as it can go then press the release button (1) while pulling upward (2).
To reinstall the headrest, put the headrest poles (3) into the holes while pressing the release button (1). Then adjust it to the appropriate height.
WARNING:
Make sure the headrest locks in position after adjusting it to properly protect the occupants.
See also:
BRAKE PAD WEAR WARNING SOUND
The front disc brake pads have wear indicators that should make a high-pitched squealing or scraping noise when new pads are needed. The sound may come and go or be heard all the time when the veh ...
Infant or Small Child
All 50 states have child restraint laws. You should be aware of the specific requirements in your state. Child and/or infant safety seats must be properly placed and installed in the rear seat. In ...
Low Tire Pressure Telltale
When the tire pressure monitoring system warning telltale is illuminated, one or more of your tires is significantly under-inflated. Immediately reduce your speed, avoid hard cornering and antici ...