Removal and installation (If Installed)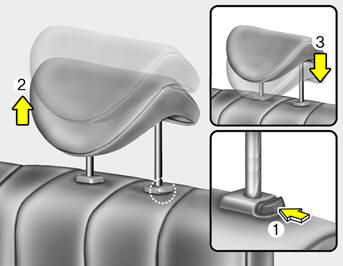 To remove the headrest, raise it as far as it can go then press the release button (1) while pulling upward (2).
To reinstall the headrest, put the headrest poles (3) into the holes while pressing the release button (1). Then adjust it to the appropriate height.
WARNING:
Make sure the headrest locks in position after adjusting it to properly protect the occupants.
See also:
Brake Hoses and Lines
Visually check for proper installation, chafing, cracks, deterioration and any leakage. Replace any deteriorated or damaged parts immediately. ...
Steering Gear Box, Linkage & Boots/Lower Arm Ball Joint
With the vehicle stopped and engine off, check for excessive free-play in the steering wheel. Check the linkage for bends or damage. Check the dust boots and ball joints for deterioration, cracks, ...
Satellite radio reception
You may experience problems in receiving XMЩ satellite radio signals in the following situations. Х If you are driving in a tunnel or a covered parking area. Х If you are driving beneath the top ...