Removal and installation (If Installed)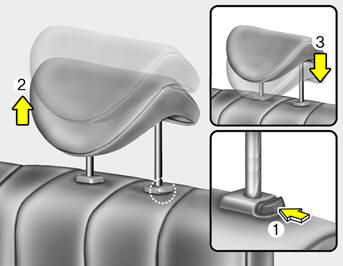 To remove the headrest, raise it as far as it can go then press the release button (1) while pulling upward (2).
To reinstall the headrest, put the headrest poles (3) into the holes while pressing the release button (1). Then adjust it to the appropriate height.
WARNING:
Make sure the headrest locks in position after adjusting it to properly protect the occupants.
See also:
2012 Hyundai Elantra review
One of the likely consequences of the federal government's push for more stringent fuel economy standards is that more people will be driving smaller cars in the future. Not too long ago, with the ...
Warranties for Your Hyundai Vehicle
Please consult your Owner's Handbook & Warranty Information booklet for your vehicle's specific warranty coverage. ...
Measurement
POWER STEERING FUEL SYSTEM TIRE BRAKE ...