REAR SEAT. Adjusting seatback angle (3 Door)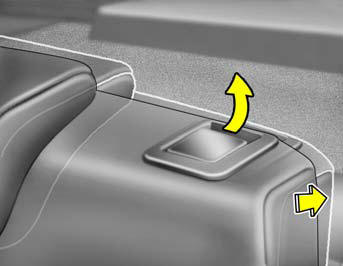 To recline the seatback, pull up the seatback folding lever (1) and push the seatback rearward.
To return the seatback to an upright position, pull up the seatback folding lever (1) and pull the seatback forward until the seatback locks into upright position. After adjusting the seatback angle, always check that it is securely locked into place.
WARNING:
Do not adjust the seatback angle while the vehicle is in motion.
See also:
Appearance care
Exterior care Exterior general caution It is very important to follow the label directions when using any chemical cleaner or polish. Read all warning and caution statements that appear on the lab ...
Overdrive Switch
When the overdrive switch is turned on, the transaxle will automatically upshift to the second, third and overdrive gears. When the overdrive switch is turned off, the transaxle will not upshift ...
Checking the amount of air conditioner refrigerant and compressor lubricant
When the amount of refrigerant is low, the performance of the air conditioning is reduced. Overfilling also has a negative influence on the air conditioning system. Therefore, if abnormal operatio ...