REAR SEAT. Adjusting seatback angle (3 Door)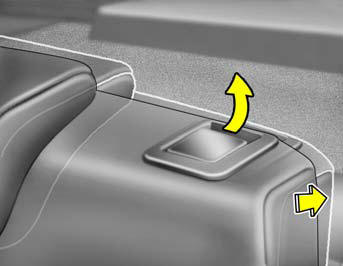 To recline the seatback, pull up the seatback folding lever (1) and push the seatback rearward.
To return the seatback to an upright position, pull up the seatback folding lever (1) and pull the seatback forward until the seatback locks into upright position. After adjusting the seatback angle, always check that it is securely locked into place.
WARNING:
Do not adjust the seatback angle while the vehicle is in motion.
See also:
Seats
Driver's seat (1) Forward and backward (2) Seatback angle (3) Seat cushion height (4) Lumbar support* (5) Seat warmer* (6) Headrest Front passenger's seat (7) Forward and backward (8) Seatb ...
To Clean the Leather Upholstery
In the normal course of use, leather upholstered surfaces will, like any material, pick-up dust and dirt. This dust and dirt must be cleaned off or it may work into the surface of the leather, cau ...
Armed stage
Using the smart key Park the vehicle and stop the engine. Arm the system as described below. 1.Turn off the engine. 2.Make sure that all doors, the engine hood and trunk lid are closed and latched ...