REAR SEAT. Adjusting seatback angle (3 Door)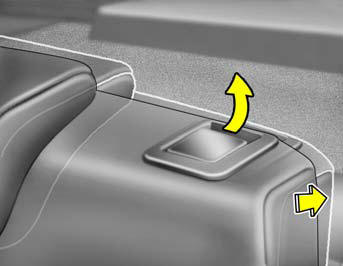 To recline the seatback, pull up the seatback folding lever (1) and push the seatback rearward.
To return the seatback to an upright position, pull up the seatback folding lever (1) and pull the seatback forward until the seatback locks into upright position. After adjusting the seatback angle, always check that it is securely locked into place.
WARNING:
Do not adjust the seatback angle while the vehicle is in motion.
See also:
Consumer information
This consumer information has been prepared in accordance with regulations issued by the National Highway Traffic Safety Administration of the U.S. Department of Transportation. Your Hyundai deale ...
2010 TUCSON 61 POUNDS LIGHTER THAN THE OUTGOING MODEL DESPITE BEING THREE INCHES LONGER
World-class weight efficiency was one of the program targets for the Hyundai Tucson engineering team. In fact, the 2010 Tucson leads all of its competitors in weight efficiency. Hyundai engineers ...
Automatic-dimming function
Your mirror will automatically dim upon detecting glare from the vehicles traveling behind you. The auto-dimming function can be controlled by the Dimming ON/OFF Button: 1. Pressing the button turn ...