REAR SEAT ENTRY (3 Door)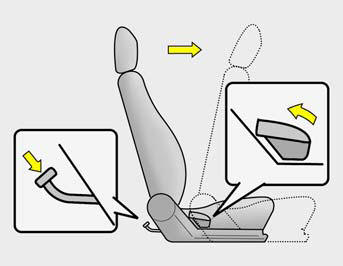 The front passenger's seatback should be tilted to enter the rear seat.
By pulling up on the recliner control lever (1) at the outside of the front passenger's seat, the seatback will tilt forward and the seat will automatically slide forward.
Rear seat occupants can tilt the front passenger's seatback by depressing the foot lever (2) as shown in the illustration.
WARNING:
Passengers sitting in the rear seat should be careful not to accidentally press the foot lever (2) while the vehicle is moving, as this may cause the seatback to move forward and injure a front seat occupant.
See also:
Keeping the Condenser Clean
The air conditioner condenser (and engine radiator) should be checked periodically for accumulation of dirt, dead insects, leaves, etc. These can interfere with maximum cooling efficiency. When re ...
RUNNING iPod®(PA710) (If Installed)
1. iPod Selection Button 2. TRACK Moving Button 3. RANDOM Playback Button 4. REPEAT Selection Button 5. INFO Button 6. SEARCH Knob & ENTER Button 7. CATEGORY Selection Button 1. iPod Sele ...
Changing the coolant
Have coolant changed by an authorized HYUNDAI dealer according to the Maintenance Schedule at the beginning of this section. CAUTION Put a thick cloth or fabric around the radiator cap before refi ...