REAR SEAT ENTRY (3 Door)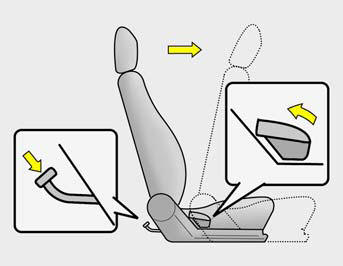 The front passenger's seatback should be tilted to enter the rear seat.
By pulling up on the recliner control lever (1) at the outside of the front passenger's seat, the seatback will tilt forward and the seat will automatically slide forward.
Rear seat occupants can tilt the front passenger's seatback by depressing the foot lever (2) as shown in the illustration.
WARNING:
Passengers sitting in the rear seat should be careful not to accidentally press the foot lever (2) while the vehicle is moving, as this may cause the seatback to move forward and injure a front seat occupant.
See also:
Emergency starting
Connect cables in numerical order and disconnect in reverse order. ...
If the engine overheats
If your temperature gauge indicates overheating, you experience a loss of power, or hear loud pinging or knocking, the engine is probably too hot. If this happens, you should: 1. Pull off the road ...
Check Fuel Filler Cap Warning Light
This warning light indicates the fuel filler cap is not tight securely. Always make sure that the fuel filler cap is tight. ...