REAR SEAT ENTRY (3 Door)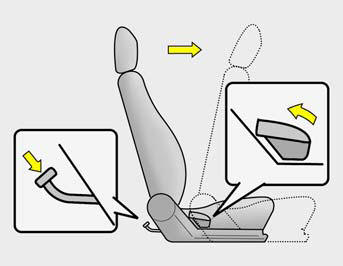 The front passenger's seatback should be tilted to enter the rear seat.
By pulling up on the recliner control lever (1) at the outside of the front passenger's seat, the seatback will tilt forward and the seat will automatically slide forward.
Rear seat occupants can tilt the front passenger's seatback by depressing the foot lever (2) as shown in the illustration.
WARNING:
Passengers sitting in the rear seat should be careful not to accidentally press the foot lever (2) while the vehicle is moving, as this may cause the seatback to move forward and injure a front seat occupant.
See also:
Summer tires
HYUNDAI specifies summer tires on some models to provide superior performance on dry roads. Summer tire performance is substantially reduced in snow and ice. Summer tires do not have the tire trac ...
Tire maintenance
In addition to proper inflation, correct wheel alignment helps to decrease tire wear. If you find a tire is worn unevenly, have your dealer check the wheel alignment. When you have new tires insta ...
Foreword
Thank you for choosing Hyundai. We are pleased to welcome you to the growing number of discriminating people who drive Hyundais. The advanced engineering and high-quality construction of each Hyu ...