REAR SEAT ENTRY (3 Door)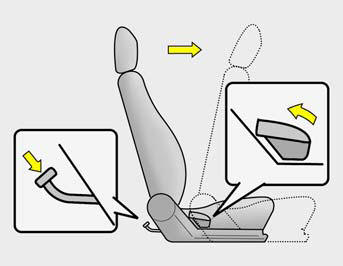 The front passenger's seatback should be tilted to enter the rear seat.
By pulling up on the recliner control lever (1) at the outside of the front passenger's seat, the seatback will tilt forward and the seat will automatically slide forward.
Rear seat occupants can tilt the front passenger's seatback by depressing the foot lever (2) as shown in the illustration.
WARNING:
Passengers sitting in the rear seat should be careful not to accidentally press the foot lever (2) while the vehicle is moving, as this may cause the seatback to move forward and injure a front seat occupant.
See also:
Checking tire inflation pressure
Check your tires once a month or more. Also, check the tire pressure of the spare tire. How to check Use a good quality gage to check tire pressure.You can not tell if your tires are properly inf ...
Injured Person
A seat belt should be used when an injured person is being transported. When this is necessary, you should consult a physician for recommendations. ...
Wheel Cap
1. Wrap a piece of cloth around the tip of the flat-head screwdriver to avoid scratching. 2. Insert the flat-head screwdriver into the notch of the wheel cap and pry gently to remove the wheel ...