REAR SEAT ENTRY (3 Door)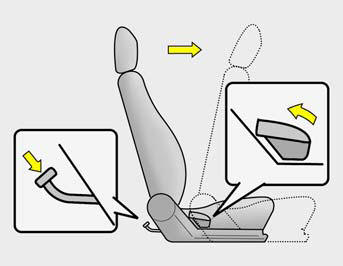 The front passenger's seatback should be tilted to enter the rear seat.
By pulling up on the recliner control lever (1) at the outside of the front passenger's seat, the seatback will tilt forward and the seat will automatically slide forward.
Rear seat occupants can tilt the front passenger's seatback by depressing the foot lever (2) as shown in the illustration.
WARNING:
Passengers sitting in the rear seat should be careful not to accidentally press the foot lever (2) while the vehicle is moving, as this may cause the seatback to move forward and injure a front seat occupant.
See also:
Closing the fuel filler lid
1. To install the cap, turn it clockwise until it "click". This indicates that the cap is securely tightened. 2. Close the fuel filler lid and push it in lightly making sure that it is securely c ...
CIGARETTE LIGHTER
For the cigarette lighter to work, the key must be in the "ACC" position or the "ON" position. To use the cigarette lighter, push it all the way into its socket. When the elem ...
Low Oil Pressure Warning Light
CAUTION: If the oil pressure warning light stays on while the engine is running, serious engine damage may result. The oil pressure warning light comes on whenever there is insufficient oil pre ...