Headrest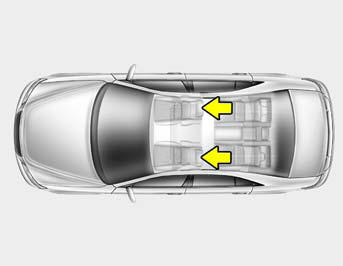 The driver's and front passenger's seats are equipped with a headrest for the occupant's safety and comfort.
The headrest not only provides comfort for the driver and front passenger, but also helps to protect the head and neck in the event of a collision.
WARNING:
o For maximum effectiveness in case of an accident, the headrest should be adjusted so the middle of the headrest is at the same height as the center of gravity of an occupant's head. Generally, the center of gravity of most people's head is similar with the height of the top of their eyes. Also, adjust the headrest as close to your head as possible. For this reason, the use of a cushion that holds the body away from the seatback is not recommended.
o Do not operate the vehicle with the headrests removed as severe injury to the occupants may occur in the event of an accident. Headrests may provide protection against neck injuries when properly adjusted.
o Do not adjust the headrest position of the driver's seat while the vehicle is in motion.
See also:
BRAKE PAD WEAR WARNING SOUND
The front disc brake pads have wear indicators that should make a high-pitched squealing or scraping noise when new pads are needed. The sound may come and go or be heard all the time when the veh ...
SRS Components and Functions
The SRS consists of the following components: 1. Front Impact Sensor 2. "PASSENGER AIR BAG OFF" Indicator (Front passenger's seat only) 3. SRS "AIR BAG" warning light 4. ...
Vehicle break-in process
No special break-in period is needed. By following a few simple precautions for the first 600 miles (1,000 km) you may add to the performance, economy and life of your vehicle. Do not race the ...