Headrest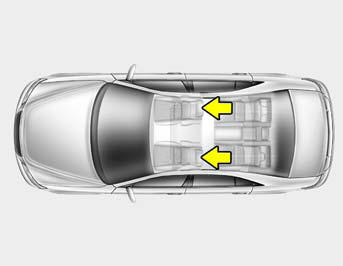 The driver's and front passenger's seats are equipped with a headrest for the occupant's safety and comfort.
The headrest not only provides comfort for the driver and front passenger, but also helps to protect the head and neck in the event of a collision.
WARNING:
o For maximum effectiveness in case of an accident, the headrest should be adjusted so the middle of the headrest is at the same height as the center of gravity of an occupant's head. Generally, the center of gravity of most people's head is similar with the height of the top of their eyes. Also, adjust the headrest as close to your head as possible. For this reason, the use of a cushion that holds the body away from the seatback is not recommended.
o Do not operate the vehicle with the headrests removed as severe injury to the occupants may occur in the event of an accident. Headrests may provide protection against neck injuries when properly adjusted.
o Do not adjust the headrest position of the driver's seat while the vehicle is in motion.
See also:
Keep Paint and Trim in Good Condition
Scratches or chips in the finish should be covered with "touch-up" paint as soon as possible to reduce the possibility of corrosion. If bare metal is showing through, the attention of a ...
CARE OF DISCS
Proper Handling Handle your disc as shown. Do not drop the disc. Hold the disc so you will not leave fingerprints on the surface. If the surface is scratched, it may cause the pickup to skip si ...
Measurement
POWER STEERING FUEL SYSTEM TIRE BRAKE ...