Headrest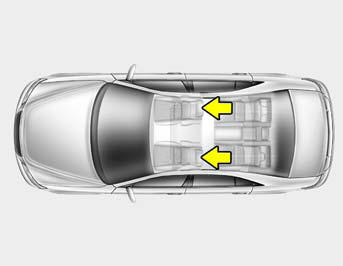 The driver's and front passenger's seats are equipped with a headrest for the occupant's safety and comfort.
The headrest not only provides comfort for the driver and front passenger, but also helps to protect the head and neck in the event of a collision.
WARNING:
o For maximum effectiveness in case of an accident, the headrest should be adjusted so the middle of the headrest is at the same height as the center of gravity of an occupant's head. Generally, the center of gravity of most people's head is similar with the height of the top of their eyes. Also, adjust the headrest as close to your head as possible. For this reason, the use of a cushion that holds the body away from the seatback is not recommended.
o Do not operate the vehicle with the headrests removed as severe injury to the occupants may occur in the event of an accident. Headrests may provide protection against neck injuries when properly adjusted.
o Do not adjust the headrest position of the driver's seat while the vehicle is in motion.
See also:
Track Performance
I had a chance to drive a four-cylinder and V-6 coupe on a track, and both coupes felt balanced through the corners, but their standard stability systems were frequently activated. I'm no pro driv ...
Features
Hyundai isn't succeeding these days just because its cars are improving. The brand is also keeping prices low with impressive content levels. That continues here. The base GLS sedan is the least ...
If Engine Doesn't Turn Over or Turns Over Slowly
1. If your car has an automatic transaxle, be sure the gear selector lever is in "N" or "P" and the emergency brake is set. 2. Check the battery connections to be sure they ar ...