Headrest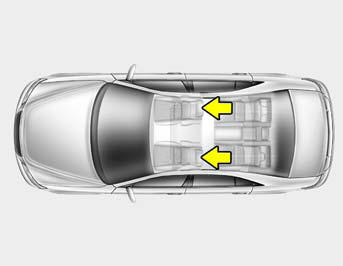 The driver's and front passenger's seats are equipped with a headrest for the occupant's safety and comfort.
The headrest not only provides comfort for the driver and front passenger, but also helps to protect the head and neck in the event of a collision.
WARNING:
o For maximum effectiveness in case of an accident, the headrest should be adjusted so the middle of the headrest is at the same height as the center of gravity of an occupant's head. Generally, the center of gravity of most people's head is similar with the height of the top of their eyes. Also, adjust the headrest as close to your head as possible. For this reason, the use of a cushion that holds the body away from the seatback is not recommended.
o Do not operate the vehicle with the headrests removed as severe injury to the occupants may occur in the event of an accident. Headrests may provide protection against neck injuries when properly adjusted.
o Do not adjust the headrest position of the driver's seat while the vehicle is in motion.
See also:
Owner's responsibility
NOTICE Maintenance Service and Record Retention are the owner's responsibility. You should retain documents that show proper maintenance has been performed on your vehicle in accordance with t ...
Floor mat anchor(s)
When using a floor mat on the front floor carpet, make sure it attaches to the floor mat anchor(s) in your vehicle. This keeps the floor mat from sliding forward. WARNING • Make sure the floor m ...
2011 Hyundai Elantra review
Either I'm getting finicky in my old age or Michigan's never-ending winter is getting to me. Even though the 2011 Hyundai Elantra looked cool and handled well over hard-packed snow-covered roads, ...