Window Glass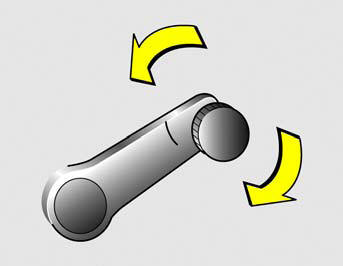 To lower or raise the window, turn the window regulator handle clockwise or counterclockwise.
WARNING:
When opening or closing the windows, make sure your passenger's arms, hands and body are safely out of the way.
See also:
2012 Hyundai Elantra review
One of the likely consequences of the federal government's push for more stringent fuel economy standards is that more people will be driving smaller cars in the future. Not too long ago, with the ...
Cleaning the Carpets
Use a foam-type carpet cleaner. Cleaners of this type are available in aerosol cans in liquid form or powder. Read the instructions and follow them exactly. Using a vacuum cleaner with the appropr ...
Resetting the sunroof
Whenever the vehicle battery is disconnected or discharged, or related fuse is blown, you must reset your sunroof system as follows: 1. Turn the ignition switch to the ON position and close the sun ...