Replacing the battery
When the transmitter's battery begins to get weak, it may take several pushes on the button to lock or unlock the doors, and the LED will not light. Replace the battery as soon as possible.
Battery type : CR2032
Replacement instructions:
1. Carefully separate the case with a blade screwdriver.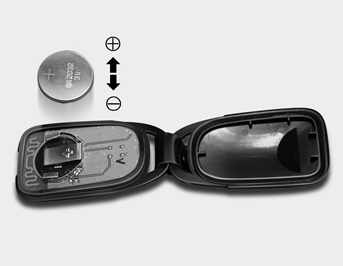 2. Remove the old battery from the case and note the polarity. Make sure the polarity of the new battery is the same(+side facing up), then insert it in the transmitter.
CAUTION:
An inappropriately disposed battery can be harmful to the environment and human health. Dispose the battery according to your local law(s) or regulation.
See also:
Crankcase Emission Control System
The positive crankcase ventilation system is employed to prevent air pollution caused by blow-by gases being emitted from the crankcase. This system supplies filtered fresh air to the crankcase th ...
Gasolines for Cleaner Air
To help contribute to cleaner air, Hyundai recommends you use gasolines treated with detergent additives, which help prevent deposit formation in the engine. These gasolines will help the engine r ...
Climate control air filter
The climate control air filter installed behind the glove box filters the dust or other pollutants that come into the vehicle from the outside through the heating and air conditioning system. If ...