Replacing the battery
When the transmitter's battery begins to get weak, it may take several pushes on the button to lock or unlock the doors, and the LED will not light. Replace the battery as soon as possible.
Battery type : CR2032
Replacement instructions:
1. Carefully separate the case with a blade screwdriver.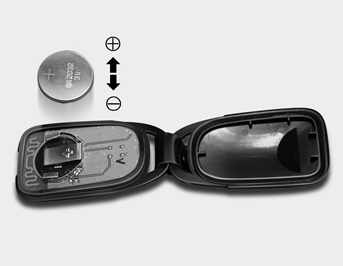 2. Remove the old battery from the case and note the polarity. Make sure the polarity of the new battery is the same(+side facing up), then insert it in the transmitter.
CAUTION:
An inappropriately disposed battery can be harmful to the environment and human health. Dispose the battery according to your local law(s) or regulation.
See also:
Pre-Trip Inspections
1. Tires: Adjust the tire inflation pressures for highway driving. Low tire inflation pressures will result in overheating and possible failure of the tires. Avoid using worn or damaged tires whi ...
Changing the climate control air filter
(For Evaporator and Blower Unit) (If Installed) The climate control air filter is located in front of the evaporator unit behind the glove box. It helps to decrease the amount of pollutants enter ...
Tire rotation
To equalize tread wear, it is recommended that the tires be rotated every 7,500 miles (12,000 km) or sooner if irregular wear develops. During rotation, check the tires for correct balance. When r ...