Keys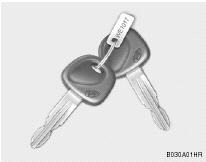 For greater convenience, the same key operates all the locks in your Hyundai. However, because the doors can be locked without a key, carrying a spare key is recommended in case you accidentally lock one key inside the car.
Record Your Key Number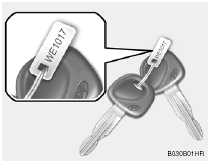 A code number is stamped on the number plate that came with the keys to your Hyundai. This key number plate should not be left with the keys but kept in a safe place, not in the vehicle. The key number should also be recorded in a place where it can be found in an emergency.
If you need additional keys, or if you should lose your keys, your authorized Hyundai dealer can make new keys if you can supply the key number.
ILLUMINATED IGNITION SWITCH (If installed)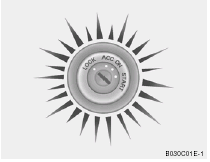 Whenever either front door is opened, the ignition switch will be illuminated for your convenience, provided the ignition switch is not in the "ON" position.
The light will go off approximately 10 seconds after closing the door or when the ignition switch is turned on.
See also:
Drive belts
Inspect all drive belts for evidence of cuts, cracks, excessive wear or oil saturation and replace if necessary. Drive belts should be checked periodically for proper tension and adjusted as neces ...
HAZARD WARNING SYSTEM
The hazard warning system should be used whenever you find it necessary to stop the car in a hazardous location. When you must make such an emergency stop, always pull off the road as far as pos ...
SMOOTH CORNERING
Avoid braking or gear changing in corners, especially when roads are wet. Ideally, corners should always be taken under gentle acceleration. If you follow these suggestions, tire wear will be held ...