Vehicle identification number (VIN)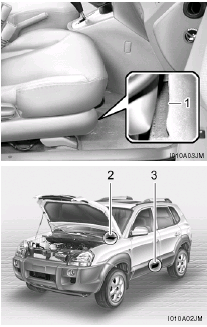 The vehicle identification number (VIN) is the number used in registering your car and in all legal matters pertaining to its ownership, etc. It can be found in three different places on your car:
1. Lower side of the front passenger seat under the carpet.
2. On the left top side of the instrument panel where it can be seen by looking down through the windshield.
3. On the lower side of the left center pillar outer panel.
See also:
CHASSIS REFINEMENT FOR 3.8 AND 4.6 MODELS
Always seeking to enhance the Hyundai Genesis driving experience, Hyundai engineers have made further refinements to the 3.8 and 4.6 model suspension damping calibrations. These precise adjustment ...
Features
The Genesis won't confuse you with option packages or trim levels: Only the 3.8 has option packages to choose from, and there are only two. The Genesis 3.8 starts at $34,200 and comes equipped wit ...
Power steering fluid level
The power steering fluid level should be checked regularly. To check the power steering fluid level, be sure the engine is "OFF", then check to make certain that the power steering flui ...