Vehicle identification number (VIN)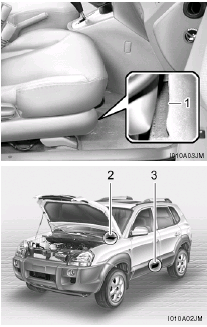 The vehicle identification number (VIN) is the number used in registering your car and in all legal matters pertaining to its ownership, etc. It can be found in three different places on your car:
1. Lower side of the front passenger seat under the carpet.
2. On the left top side of the instrument panel where it can be seen by looking down through the windshield.
3. On the lower side of the left center pillar outer panel.
See also:
Changing the Climate Control Air Filter
The climate control air filter is located in front of the evaporator unit behind the glove box. It helps to decrease the amount of pollutants entering the car. 1. Open the glove box and remove t ...
Sunshade
The sunshade will be opened with the glass panel automatically when the glass panel is slid.You will have to close it manually if you want it closed. CAUTION The sunroof is made to slide togethe ...
SRS Care
The SRS is virtually maintenance-free and there are no parts you can safely service by yourself. If the SRS "AIR BAG" warning light does not illuminate, or continuously remains on, have ...