Vehicle identification number (VIN)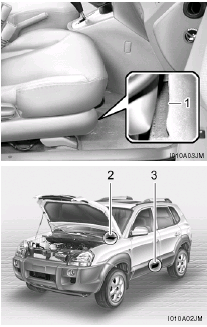 The vehicle identification number (VIN) is the number used in registering your car and in all legal matters pertaining to its ownership, etc. It can be found in three different places on your car:
1. Lower side of the front passenger seat under the carpet.
2. On the left top side of the instrument panel where it can be seen by looking down through the windshield.
3. On the lower side of the left center pillar outer panel.
See also:
Parking brake
Applying the parking brake Foot type To engage the parking brake, first apply the foot brake and then depress the parking brake pedal down as far as possible. Hand type To engage the parking ...
Drive belts
Inspect all drive belts for evidence of cuts, cracks, excessive wear or oil saturation and replace if necessary. Drive belts should be checked periodically for proper tension and adjusted as neces ...
Starting
Starting WARNING: Never run the engine in a closed or poorly ventilated area any longer than is needed to move your car in or out of the area. The carbon monoxide gas emitted is odorless and c ...